Siegel and Shuster's Funnyman: The First Jewish Superhero, from the Creators of Superman (Paperback)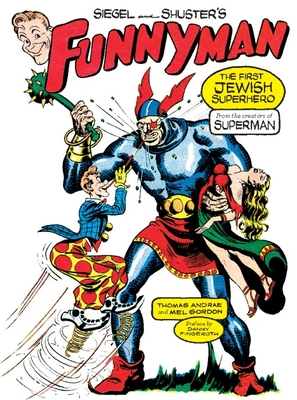 $24.95
Temporarily Unavailable
Description
---
Here is a kaleidoscopic analysis of Jewish humor as seen through Funnyman, a little-known super-heroic invention by the creators of Superman. Included are complete comic-book stories and daily and Sunday newspaper panels from Jerry Siegel and Joe Shuster's creative fiasco.
Siegel and Shuster, two Jewish teenagers from Cleveland, sold the rights to their amazing and astonishingly lucrative comic book superhero to Detective Comics for $130 in 1938. Not only did they lose the ownership of the Superman character, they also agreed to write and illustrate it for ten years at ten dollars per page. Their contract with the DC publishers was soon heralded as the most foolish agreement in the history of American popular culture.
After toiling on workman's wages for a decade, Siegel and Shuster struggled to come up with a new superhero, one that would right their wrongs and prove that justice, fair-play, and zany craftsmanship was the true American way and would lead to ultimate victory. But when the na ve duo launched their new comic character Funnyman in 1947, it failed miserably. All the turmoil and personal disasters in Siegel and Shuster's postwar life percolated into the comic strip.
This book tells the back story of the unsuccessful strip and Siegel and Shuster's ambition to have their funny Jewish superhero trump Superman.
Mel Gordon is the author of Voluptuous Panic: The Erotic World of Weimar Berlin.
Thomas Andrae is the author of Batman and Me.
About the Author
---
The co-creator of "Superman" and "Funnyman," who died at the age of 81 in 1996. The Canadian-born artist was a co-creator of Superman and Funnyman.
Praise For…
---
"…Funnyman's immediate historical relevance is as the character Jerry Siegel and Joe Shuster created as their follow-up to Superman, but underlying that is a point of larger cultural importance. Andrae and Gordon approach the character as the most straightforward expression of Jewishness in comics at the time, and as a springboard to a wider discussion of the history of Jewish humor…Funnyman was the result of Siegel and Shuster turning a specific ethnic style into a more universal one. Funnyman might come from Jewish tradition, but in comics form he becomes any goofy guy who has to stand up against brute force of any sort. He's far more reflective of the reading audience, as well as the creators, than Superman ever was, though Clark Kent was an attempt to rectify that. The Yiddishisms might have whispered to one audience, but the 'schlemiel' is something many people can identify with…" — Publishers Weekly