Dark Mission: The Secret History of the National Aeronautics and Space Administration (Paperback)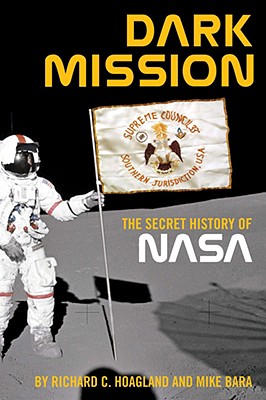 $24.95
Temporarily Unavailable
Description
---
For most Americans, the word NASA suggests a squeaky-clean image of technological infallibility.
Yet the truth is that NASA was born in a lie, and has concealed the truths about its occult origins. Dark Mission documents this seemingly wild assertion.
Why is the Bush administration intent on returning to the moon as quickly as possible? What are the reasons for the current "space race" with China, Russia, and India? Remarkable images reproduced within this book provided to author Richard C. Hoagland by disaffected NASA employees provide clues why, including information about suppressed lunar discoveries.
Mystical organizations quietly dominate NASA, carrying out their own secret agendas behind the scenes. This is the story of men at the very fringes of rational thought and conventional wisdom, operating at the highest levels of our country. Their policies are far more aligned with ancient religions and secret mystery schools than the facade of rational science NASA has successfully promoted to the world for almost fifty years.
Dark Mission is proof of the secret history of the National Aeronautics and Space Administration and the astonishing, seminal discoveries it has repeatedly suppressed for decades.
Richard C. Hoagland is the former science advisor to CBS News, author of The Monuments of Mars, and a frequent guest on the popular radio programs Coast To Coast and The Art Bell Show.
Mike Bara is a consulting engineer for Boeing aircraft. This is his first book.