The Nature of Yosemite: A Visual Journey (Hardcover)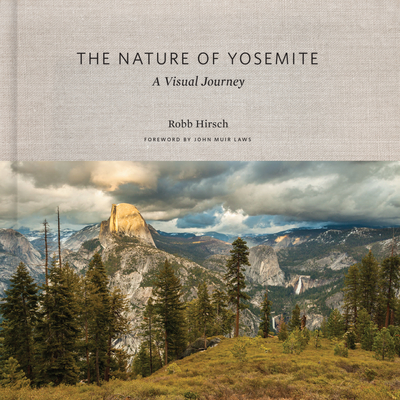 $35.00
On Our Shelves Now. Call store for up-to-the-minute availability.
Description
---
One of the "The 30 Best Holiday Books of the Year," Entertainment Weekly
"Capturing the jaw-dropping splendor California's crown jewel, the crisp photos and essays in 'The Nature of Yosemite: A Visual Journey' by Robb Hirsch inspires the naturalist in all of us." --Los Angeles Times, November 2019
"The photos are humbling: Whether a devoted naturalist or a committed city-dweller, the viewer can't help but be moved and inspired by these images." --High Country News
Majestic icons, intimate details, compelling wildlife portraits, and enchanting scenes of natural splendor are richly reproduced in this stylish volume. Whether venturing deep into the wilderness or simply taking a few steps off a park road, photographer Robb Hirsch, a scientist by training, always brings back a captivating picture--and the story behind it.
Yosemite is like nowhere else on Earth. Within its vast expanses, are found spectacular granites, two major watersheds, glacially carved valleys, delicate meadows, thousands of lakes, grand trees, and charismatic wildlife. From his years of exploring and studying the Sierra Nevada, Robb knows that understanding the natural processes underlying the magic of a place like Yosemite can thoroughly enhance one's connection to the landscape. In this book, Robb provides that enriching experience by calling on knowledgeable friends--all experts in their fields--to contribute insights into the natural wonders on view in his photographs. The images and essays work together to draw readers into a deeper relationship with their favorite national park.
The book features essays by these Sierra Nevada luminaries:
John Muir Laws, on Wonder, Beauty, and Nature
Tim Palmer, on rivers
Greg Stock, on geology
James McGrew, on the role of art in Yosemite
Brock Dolman, on the water cycle
Sarah Stock, on bird diversity
Rob Grasso, on the Yosemite toad
Kurt Menning, on fire ecology
Beth Pratt, on pikas Dan Webster, on wildflowers
Karen Amstutz, on Tuolumne Meadows
Nathan Stephenson, on giant sequoias
Adonia Ripple, on the importance of Yosemite
Pete Devine, on the remarkable properties of leaves
Robb's passion is the ongoing search for the "Wow " that can be found in every acre of Yosemite National Park--and that passion comes through in each of his photographs. The result is a breathtaking book that will dazzle, enlighten, and inspire a deep appreciation for the nature of Yosemite.