The Healthy Skin Kitchen: For Eczema, Dermatitis, Psoriasis, Acne, Allergies, Hives, Rosacea, Red Skin Syndrome, Cellulite, Leaky Gut, MCAS, Salicylate Sensitivity, Histamine Intolerance & more (Hardcover)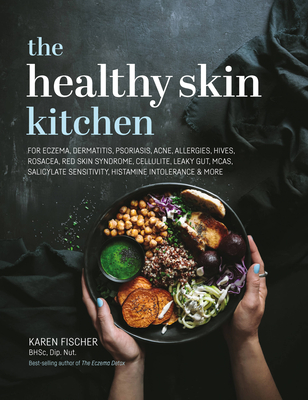 $27.99

NOT on our shelves now. Usually ships from warehouse in several days.
Description
---
Whether your skin issue is mild or momentous, The Healthy Skin Kitchen is your essential resource for clear, healthy skin. Informative and inspiring, it is the go-to guide to reclaim your life and get that good skin glow you've always wanted.
Beautifully laid out with gorgeous photography, The Healthy Skin Kitchen shows you what to put on your fork to create radiant skin from the inside out. Far from a one-size-fits-all diet, the delicious allergy-friendly recipes include gluten-free, dairy-free, low salicylate, low histamine, vegan and autoimmune paleo options, so you can tailor meals to suit you or simply follow your favourite menu and Karen's skin care regime.
From 90s model and television presenter to award-winning author and nutritionist, Karen Fischer has spent the past twenty years working with thousands of skin disorder patients. Karen personally knows what it's like to struggle with embarrassing skin ailments that no one could fix. Her journey from head-to-toe eczema and hives to clear skin turned around when she found the underlying cause of her symptoms. Now you can do this too.
Find answers to combat eczema, acne, dandruff, hives, rosacea, salicylate sensitivity and much more. Even if you have great skin, you'll experience the benefits of eating nutritious food that is right for you – enjoying more energy, a trimmer waistline and better gut health.
About the Author
---
Karen Fischer is a nutritionist and a member of the Australian Traditional-Medicine Society (ATMS). She has a Bachelor of Health Science Degree and a nutrition diploma. For more than a decade, Karen has used the Eczema Diet in her private practice to help her patients, of all ages, become eczema-free. Karen's books with Exisle include the bestselling The Healthy Skin Diet (winner of 'Best Health, Nutrition or Specific Diet Book' at the 2008 Australian Food Media Awards), The Eczema Detox, The Eczema Diet, Younger Skin in 28 Days and Healthy Family, Happy Family.
Praise For…
---
This book is a holistic guide to achieving health goals inside and out!—Unity Words

This book shows you what to put on your fork to create radiant skin from the inside out. Far from a one-size-fits-all approach, the delicious allergy-friendly recipes include gluten-free, dairy-free, low salicylate, low histamine, vegan and autoimmune paleo options to tailor meals to suit your needs… Find answers to combat eczema, acne, dandruff, hives, rosacea, salicylate sensitivity and much more.—Paper Plus Masterton, Wairarapa Times Age and Kapiti News

The journey through this beautifully presented book with gorgeous photographs, will educate and inform readers in depth, on how to keep their skin in optimum condition through natural food and supplements.—Kids' Book Review

Vividly illustrated, this hardback will inform and educate on how to keep your skin in optimum condition through natural food and supplements. It shows you what to put on your fork to create radiant skin from inside out.—PS News

For anyone who has suffered through a skin allergy or is permanently afflicted with eczema, dermatitis, leaky gut or some sort of intolerance to modern foods, The Healthy Skin Kitchen from Karen Fischer is a breath of fresh air; a slightly different take on healing your skin, as well as yourself in a very practical and user friendly style.—Blue Wolf Reviews

Covering all aspects of healthy skin care, and then going on to showcase a culinary wealth of delicious, nutritious, appetite satisfying and skin healthy recipes for dishes that would grace any dining occasion, The Health Skin Kitchen is a unique and unreservedly recommended addition to personal, professional, and community library cookbook collections.—Midwest Book Review

For anyone who has suffered through a skin allergy or is permanently afflicted with eczema, dermatitis, leaky gut or some sort of intolerance to modern foods, The Healthy Skin Kitchen from Karen Fischer is a breath of fresh air.—Conscious Living Magazine

An essential resource for anyone who wants beautiful skin, particularly people who struggle with Eczema, Acne and other skin disorders.—Slim Magazine

Part cookbook, part skin bible… your go-to guide for loving, nourishing, and embracing the skin you are in.—Wellbeing Magazine