Dialectical Behaviour Therapy: Discover the Proven Power of DBT For Emotion Regulation, Panic & Worry, Anxiety, and Cognitive Dissonance: With Matthe (Paperback)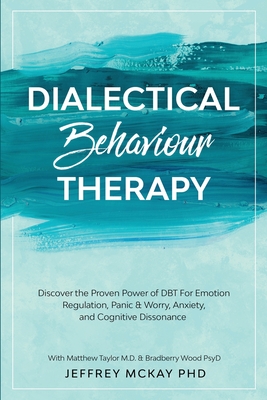 $19.99

Coming Soon. Pre-Order Now!
(This book cannot be returned nor exchanged.)
Description
---
Discover The Proven Powers of Dialectical Behavior Therapy For Emotion Regulation and A Return To Happiness Today
Do you struggle with feelings and thoughts that life is not really worth living sometimes? Are you struggling with overwhelming feelings of fears and worries on a daily basis? And are you looking for a way to rid yourself of all these negative feelings and to finally find love and self-compassion for yourself once again?
What If I Told You There Was A Way That You Can Finally Take Back Control of Your Condition Through Proven Mindfulness Techniques As Well as Being Kind and Compassionate To Yourself?
In "Dialectical Behavior Therapy" You Will Learn And Discover...
What DBT Really Is And What It Can Do For You
How To Include Dialectical Behavior Therapy In Your Life
Understanding The Transformative Powers of Self-Compassion
Myths and Benefits of Self-Compassion
How to Build and Master Your Emotions
Finding Yourself Through Mindfulness Practice
How You Can Take Mindfulness To The Next Level
Techniques To Process Negative Emotions In A Healthy Way
How To Enchance Your life With DBT
Advanced Meditation Techniques Dedicated For You
How To Clearly Define Goals And Value Yourself
Practical Steps To Love Yourself The Right Way
And so much more...
Let's Get You To Your Goals ASAP
Pick up your copy of the book right now by clicking the BUY NOW button at the top of this page
To Your Success