All Kinds of Cars (Hardcover)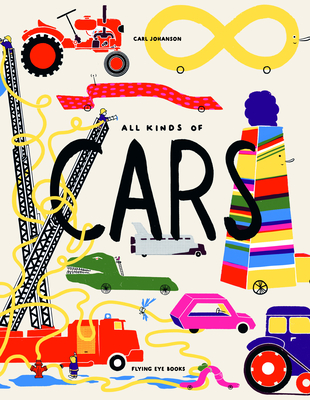 $16.95
ON HAND in at least ONE of our stores. Click through or call for up-to-the-minute availability.
Description
---
From Swedish illustrator Carl Johanson, this partly true, partly fictitious book is a fantastic visual collection of cars and other wacky forms of transportation. Johanson's book identifies the ordinary along with the extraordinary &#8212 from fire engines and snow plows to galactic buses and guitar cars. All Kinds of Cars is a playful mix of existing and imaginary enjoyed by adults and children alike.
About the Author
---
Carl is a Swedish Illstrator and artist who lives and works in Bretagne, in the west of France. As a kid he was always drawing. At the age of 19 he moved from his little home town on the west coast of Sweden to London to attend the Central St Martin's Foundation course in Art & Design. The following year he was accepted to Konstfack, (The national higher school for Art & Design), where he studied for a Bachelor's and later a Master's degree in Graphic design and Illustration. Directly after his studies he moved to Paris. His work has been described as being quirky, minimalistic and colorful. All Kinds of Cars is his first book for children.
Praise For…
---
Swedish illustrator Johanson lays out this offering in the form of a catalog, and young readers certainly won't hesitate in picking out their favorites. This whimsical collection is delightful, and provides fresh surprises at every turn. Most young audiences will finish this and immediately demand another reading.
—Booklist, STARRED REVIEW

It's a stylish and imaginative collection that all but guarantees kids will be reaching for art supplies as they dream up their own vehicles.
—Publisher's Weekly

[...] kids who love cars will enjoy this crazy compendium and will be engaged by the imaginative take on a traditional subject.
—Kirkus Reviews

The simple but cleverly rendered vehicles are likely to inspire children to grab some markers and get in on the fun. Exquisite design and seductive production values make picking this book up a no-brainer. Where to put it down ? on your child's night stand or a living room coffee table ? will present the bigger problem.
—The New York Times Book Review