The Social Worker's Guide to the Care Act 2014 (Critical Skills for Social Work) (Paperback)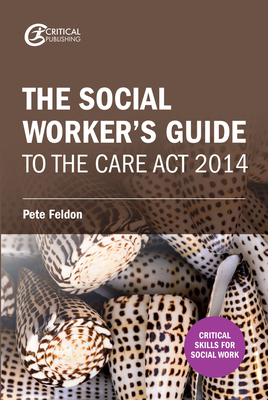 $41.00
NOT on our shelves now. Usually ships from warehouse in several days.
(This book cannot be returned nor exchanged.)
Description
---
The Care Act 2014 is arguably the most significant piece of legislation for social workers who work with adults, since the NHS and Community Care Act 1990. This book presents the information from the act, regulations and statutory guidance in a way that provides social workers with a good understanding of the legislation and how it applies to their role.
Making extensive use of case examples that derive from the author's experience as a social worker, the book highlights the circumstances where professional judgment is required and explores issues that need interpretation such as significant impact on wellbeing. 
It covers the key stages of the 'care and support journey' - first contact, assessment of needs, prevention, consideration of eligibility, charging and financial assessment, care and support planning, and review. In addition, other chapters look at significant issues such as safeguarding and working with NHS colleagues. 
This book helps to improve the 'legal literacy' of social workers, i.e. the connecting of legal rules with professional priorities and ethical practice. It achieves this by helping social workers to better understand the legal framework within which they make professional judgements, and to apply their expertise in interpreting the law for the benefit of people with care and support needs. 
This readable and jargon-free book provides:
a solid foundation for social work students in developing a critical understanding of the Care Act and its application,
help for experienced social workers with developing the critical reflection necessary to enhance their ability to make professional judgements
a source of reference which social workers can use to evaluate their local systems, policies and procedures.
About the Author
---
Pete is a freelance Care Act consultant and trainer. He has a background of working in many sectors of social care as a social worker, trainer, manager and policy developer. He was a member of the team that developed learning materials for the Care Act for Skills for Care. He is currently providing Care Act training for local authorities and for BASW. He was previously a member of the board of Skills for Care (November 2012 - November 2014). He has written articles on the Care Act published in Professional Social Work, and also 'The A-Z of the Care Act 2014' for Community Care Inform.