Do Present: How to give a talk and be heard (Paperback)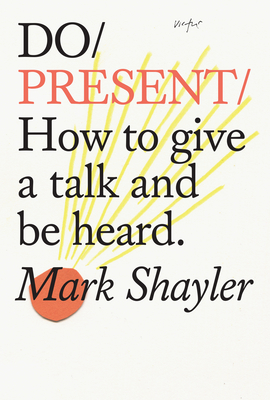 $14.95
ON HAND in at least ONE of our stores. Click through or call for up-to-the-minute availability.
Description
---
Getting our voices heard can be a nerve-wracking and overwhelming task – particularly in a world where everyone seems to have something to say. The ability to present our ideas with confidence is now a coveted skill. Yet on stage, we become this other person: less funny, less engaging, less human.
Mark Shayler draws on his own experience – from nervous speaker to charismatic compere – to guide you through the task of public speaking. He takes a deeper look at what's holding you back, and will help you to:
Find your voice and the confidence to share it
Learn how to tell stories, not just share data
Stand and move around the stage comfortably
Leave the audience informed, entertained and uplifted
Giving a brilliant talk is not about following a method. It's not about rules. It's about understanding what you want the audience to think, feel and do afterwards. Ultimately, it's about being more you.
About the Author
---
Mark Shayler is a UK-based consultant for companies including Amazon, Samsung, and Coca-Cola. He is the author of Do Disrupt: Change the status quo or become it.
Praise For…
---
ldquo;Now more than ever, the world needs us to share the stories of who we are, and how we came to be. This book shows us how.rdquo; mdash; Joan Lyiolardquo; mdash;