(In A Sense) Lost And Found (Hardcover)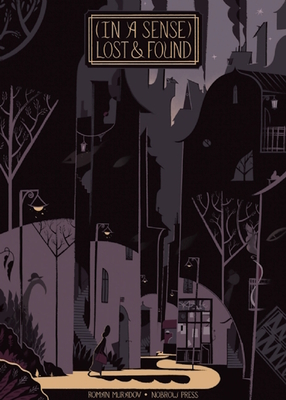 Not available to order
Hard to Find. Not available to order.
Description
---
The first graphic novel by rising star Roman Muradov explores the theme of innocence by treating it as a tangible object—something that can be used, lost, mistreated. Roman Muradov's crisp delicate style conjures a world of strange bookstores and absurd conspiracies.
About the Author
---
Roman Muradov was born in Moscow. He now resides in San Francisco, California. He hs worked for a large base of international clients as an illustrator, including Vogue, Random House, The New Yorker, The New York Times and Penguin. In 2013, Muradov recieved a Gold Medal from the Society of Illustrators. He lists Raymond Queneau, Chris Ware and Tove Jansson amongst his list of influences.
Praise For…
---
"Muradov is a master interpreter, pulling from enormous universes of prose just the right reflected lights he needs to represent a moment that visually speaks volumes. He engages. He excavates. And somehow, through the act of peeling away till he has the perfectly distilled still image, he enlarges....Muradov doesn't merely draw scenes; he renders art that reflects themes. He shares a character's state of mind, or the tension of duality, or the minute telling detail."
—Washington Post

"(In a Sense) Lost and Found is a coming-of-age saga, in addition to everything else. The book is rife with wordplay, a delight in language as sound, as music, which mirrors the movement of the art. All of it suggests the world is much weirder, much more beautiful and dangerous, than mere innocence allows. This is the conundrum, the tension (or the balance) with which we all must come to terms. It's the strength of (In a Sense) Lost and Found that it evokes both sides of this equation: a song of innocence and experience."
—LA Times

"A highly regarded figure on the small-press comics scene, Muradov has been self-publishing his distinctive, off-beat comics for several years, most notably in The Yellow Zine. His strips combine a deeply melancholic philosophy with elaborate word play, all set off with his sublime art: blending rich manga-like flair with European crispness and clarity. Muradov's toned down his more confusing sensibilities for this debut graphic novel while retaining his playfulness and incisive wit.."
—Publisher's Weekly

"Although it's hard to pin down precisely what innocence looks like or where F. is going, the unfair expectations for young women and her disorienting coming-of-age clearly filter through the sometimes opaque but always beautiful art." -Booklist

"Perfectly beautiful […] you'll enjoy Muradov's curious, wordplay-filled dialogue; you'll fall head over heels for his inventive, ambitious artwork."
—Slate

"Like all Nobrow books, Muradov's debut is graphically sharp, with block of bold flat color giving shape to his delicate drawings; a kids book style all grown up. The story is a fable involving innocence as a tangible object, sending the hero on an ephemeral quest — it's the kind of imaginary yet evocative tale that comics are great at capturing."
—Comics Beat

"Muradov's style is fluid and whimsical, bringing to mind the colors and graphic aesthetics of the Jazz Age. […] This is sure to be one of the best looking books of the year."
—Mental Floss

"(In a Sense) Lost and Found is an impressive debut from Muradov; a challenging and surreal journey steeped in hypnagogic imagery that could end up being one of this year's breakout graphic novels."
—Multiversity

"I loved Lost and Found, finding more in its details, shadowy corners, and the spaces between the panels with each new reading. My only complaint is that I wish it were longer. The book is probably not for everyone—readers looking for a simple comic with an expository voice that will guide them through a traditional plot should probably look elsewhere. But readers willing to engage in Muradov's ludic text will be rewarded—and even folks left scratching their heads will have to admit that the book is gorgeous, an aesthetic experience unto itself."
—Biblioklept

"The new graphic novel has a distinctive surrealist tone that suggests Kafka's perceptions of seething humanity, and Muradov takes the idea of losing one's innocence to a literal level as his female protagonist searches her world to recover this object–innocence itself–that could restore her."
—Bleeding Cool

"In the graphic novel, from boutique publisher Nobrow, Muradov uses his flowing illustrative style to follow a young woman on a quest to find something she lost and tries to decide whether she even wants it to begin with. Saying more about the plot would spoil the book, but it's only part of the appeal of the cartoonist's work here. The hook for me in (In a Sense) Lost and Found is the same thing that may drive some people away: its demand for nuanced reading. This is a story that calls for multiple readings, or if you're the patient type, deliberate and thoughtful attention on the first go-around. The book deliberates on the idea of innocence, but grapples with it far more than a standard romantic comedy or a stereotypical young-adult novel."
—Comic Book Resources

"The art here is perfect for the idea that is being conveyed. Muradov's signature use of a brushed pen and ink technique give motion and purpose to each panel. His work harkens back to visual iconography from the early 1930s or 40s, evoking the hustle and flow of a bustling world and the popularization of jazz in art....The plot follows a journey we all must one day experience --
the sudden and inevitable loss of innocence. That premise is rooted deep within all of us, and this book makes for a delightful, imaginative, and highly artistic take on life and loss."
—Graphic Novel Reporter

"A concise testament to the power of persevering when lost, and the perhaps unsurprising path to finding yourself once more. [...] It makes for a very interesting piece of art. Muradov succeeds on almost every count, creating an engaging comic-book that is both nice to look at and deep with meaning. Also, in true fashion for Nobrow, the comic itself is an outstanding example of craft. The well-bound hardcover feels and looks great, and wonderfully embellishes the story."
—The Comic Age

"Muradovs' art is illustrative...and it perfectly complements the story and dialogue to create a really fantastic unified tone/atmosphere...it rewards both the casual reader and the serious, those looking to just be entertained and those looking for art you carry with you."
—This is Infamous

"This book was art. Seriously –– it's a beautiful book, both in its imagery and story. The illustration was dark and dream like –– giving the story more of a magical realism feel."
—Book Fidelity