Rees Howells, Life of Faith, Intercession, Spiritual Warfare and Walking in the Spirit: Christian Principles, Addresses, Teaching & Testimonies from a (Hardcover)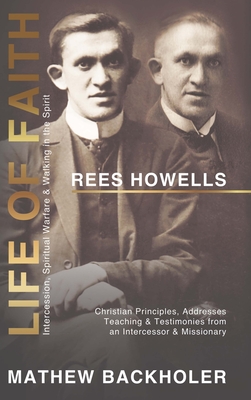 $34.79

NOT on our shelves now. Usually ships from warehouse in several days.
(This book cannot be returned nor exchanged.)
Description
---
Rees Howells in his Own Words - 60 Years in Development
The famed intercessor and missionary, Rees Howells, preached thousands of times, but until now his authentic voice has not been heard. This book was commissioned by Samuel Rees Howells in the 1960s as the sequel to his dad's biography but was lost in development until now. Discover the wonder as you listen to Rees Howells teach on the ministry of the Holy Spirit and learn how you can open yourselves to Him to become His channel for blessing, faith and intercession. Hear the authentic style of preaching, teaching and testimony of Rees, including anecdotes and contemporary quotes from men and women of God, friends of Rees who had accomplished mighty exploits for the Saviour. Life of Faith also includes significant information to aid the reader in the life story of Rees Howells, his mission work, and the history of the Bible College of Wales, Swansea.
More than 70 Rare Photographs and Images.
Learn about the life of faith, victorious living, abiding, guidance, intercession, spiritual warfare, the laws of living by faith, financial and physical provision, dependence on God, trials and tests, the call and plan of God, mission work, healing, moving in the power of the Spirit and so much more. Including letters, pamphlets, rare and never-seen-before digitally enhanced photos and original newspaper articles.
Mathew Backholer is a revival historian, prolific writer, editor, the co-founder of ByFaith Media (www.ByFaith.org), a presenter for ByFaith TV which airs globally on numerous networks and is a guest speaker on Revelation TV. Mathew is a former student and staff member of the Bible College of Wales (BCW) under the Directorship of Samuel Rees Howells and is the official historian of BCW (1924-2009) who has edited and published: Samuel, Son and Successor of Rees Howells by Richard Maton, alongside Samuel Rees Howells: A Life of Intercession by Richard Maton and Paul Backholer. Mathew has written more than twenty books including Rees Howells' God Challenges the Dictators, Doom of Axis Powers Predicted; the best-selling: Revival Fires and Awakenings and Rees Howells, Vision Hymns, as well as Reformation to Revival, Christianity Rediscovered, Extreme Faith: On Fire Christianity and Short-Term Missions: A Christian Guide to STMs.