Friars Club Encyclopedia of Jokes (Hardcover)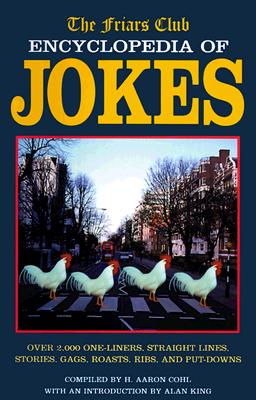 Not available to order
Stock uncertain--should fulfill within 10 days or so
Description
---
A side-splitting collection of 2000 jokes from the best-known comedians and members of the infamous Friar's Club including Ellen Degeneres, Chris Rock, George Carlin, Jerry Seinfeld, Wanda Sykes, Jon Stewart, Johnny Carson, Phyllis Diller, and dozens more.

Need a laugh? How about 2000 of them? Hundreds of the world's best comedians provide jokes for every occasion and situation --lightbulb jokes, "he's so dumb . . . " jokes, mother-in-law jokes, dirty jokes, really dirty jokes, and more! Organized alphabetically by topic, the collection is perfect for browsing, searching for ice-breakers and pick-up lines, spicing up toasts, or adding a dose of humor to public speeches.

Includes an introduction by comedian Drew Carey!
About the Author
---
Barry Dougherty is the author of several books, including A Hundred Years, A Million Laughs: A Centennial Celebration of the Friar's Club and BD&L's Private Joke File. He is the Editor of the Friar's Club magazine, the Epistle.

H. Aaron Cohl is the author of four books including Animal Wisecrackers and Are We Scaring Ourselves to Death?

Since 1904 the Friars Club has been wining and dining the top personalities of the times. From ribald comedy to musical merrymaking, the Friars have spent a century cultivating a tradition of top-tier humor that has spanned many generations and spawned millions of laughs.