Falcon (Animal) (Paperback)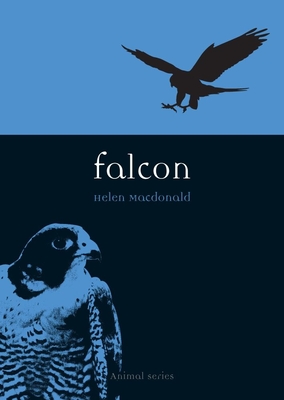 $19.95
Temporarily Unavailable
Description
---
A sacred god, a military tool, an erotic symbol: the falcon is a natural wonder of speed, power, beauty, and ferocity that has become embedded in human cultures in myriad ways. Helen Macdonald's Falcon examines the diverse symbolism and roles attached to the falcon throughout the centuries.

Macdonald presents a cultural and natural history of the falcon that spans the globe and several millennia. Her wide-ranging survey considers the many facets of the falcon, including conservation efforts; the sport of falconry; and the use of falcons in secret military projects by the Third Reich and the U.S. space program. Falcon also explores the rich imagery of the falcon over history, including the veneration of falcons as gods in ancient Egypt, their role in erotic stories, and even the use of falcons in advertising to promote photocopiers and jet planes.

Filled with illustrations and a wealth of fascinating facts, Falcon will be an enjoyable guide for ornithologists, amateur birdwatchers, and nature lovers alike.
About the Author
---
Helen Macdonald is a research fellow at Jesus College, Cambridge. She has kept falcons since she was eleven years old and has worked in falcon conservation biology in Britain and the United Arab Emirates.

Praise For…
---
"While presenting the falcon as a creature superbly adapted to its environment, Macdonald's scientific but lyrical study also celebrates its mythical, cultural and iconic significance."
— Times (UK)
"A lively and lovely series. . . . This delightful series gives us animals as both alien and familiar. . . . An exhilarating, often astonishing and sometimes moving series of monographs."
— Martin Levin
"Marvellous book . . . sheer joy."
— James Fleming
"Does not ignore natural history and falconry [and] also ranges over many other topics."
— Nicholas Gould
"This beautifully designed book offers a natural history of this fastest of all the animals as well as the story of how these birds' lives have long intertwined with those of humans."
— Rachel Hartigan Shea
"Succeeds brilliantly . . . a smart, engaging, and multidisciplinary account that vividly brings her subject to life. . . . In addition to crisp, imaginative writing, Macdonald has a knack for choosing compelling details. . . . Offers an incisive cultural history of the falcon. . . . A rich and marvelous book, which will interest a wide variety of popular and scholarly audiences. Like its subject matter,
Falcon
truly soars."
— Mark V. Barrow, Jr.
"This is a wonderful book. It is not a falconry text, nor is it a falcon biology or a conservation one. Macdonald's slim volume is far more ambitious: it is an attempt to capture and indeed explain the essence of the falcon. This is simply a most beautifully considered social history of the genus Falco. . . . It informs and provokes in equal measure. . . . Macdonald writes beautifully and with a refreshing clarity."
— The Falconer
"What Macdonald does with Falcon is bring all of herself to the subject. She breathes life into the work; pulls the lives of falcons and people together into a rare three-dimensional portrait. The effect is beautiful and lasting."
— North American Falconers Association