A Scotsman Returns: Travels with Thomas Telford in the Highlands and Islands (Paperback)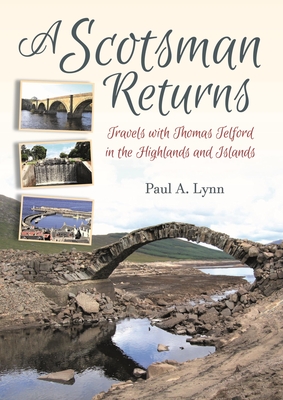 $24.95
Temporarily Unavailable
Description
---
This is a fascinating combination of biographical material about the great Scottish engineer Thomas Telford (1757-1834), and a modern travelogue that revisits the places in the Highlands and Islands where he worked over a period of 20 years. Scotland was provided with desperately-needed civil infrastructure - nearly 1000 miles of roads, 1200 bridges, many harbours, and the monumental Caledonian Canal.
Telford's programme of work was one of the greatest sustained efforts by any individual in the years of Britain's industrial revolution. And yet it is little celebrated in Scotland, let alone the rest of Britain and the wider world. After working in England and Wales for nearly 20 years, Telford was called back to his native land to address huge problems in the Highlands and Islands. These included unemployment, depopulation, Highlanders dispirited by poverty and suppression following the two Jacobite uprisings, compounded by living in mountainous regions almost totally isolated from the rest of Scotland.
Thomas Telford has been widely painted as a brilliant engineer totally devoted to his work, a somewhat one-dimensional character. However, the author shows him differently, as a man of the Scottish Enlightenment, a rounded character with a love of poetry and the natural world, a good companion and a generous friend. A Scotsman Returns reveals him as a person who, in spite of the humblest start in life, displayed great social skills in his dealings with Scots both haughty and humble during his 20-year commitment to the Highlands and Islands.
The author retraces an extensive Highland Tour made by Telford and the Poet Laureate, Robert Southey, in 1819. The two men were drawn together by Telford's love of poetry and Southey's admiration of the engineer's remarkable work in the Highlands. Southey kept a journal of the tour, which remained unpublished for a century and is still not widely known. Comments on the places they visited, the sights they saw, their social interactions, and Southey's intelligent interest in Telford's roadmaking, bridgebuilding and, above all, the Caledonian Canal are featured.
Telford's work in other areas of the Highlands and Islands is also covered, principally in Caithness, Sutherland, and the Hebridean Islands. There are further discussions of the social and political environment in which Telford operated, including the Highland Clearances. This travelogue, beautifully illustrated in full colour with over 100 photographs of Telford's surviving infrastructure, is complemented with modern views of the places where he worked.
A Scotsman Returns is a wonderful collection of Telford's remarkable achievements and will encourage readers worldwide to explore the routes followed by Telford as he developed Highland infrastructure.