Night Parade of Hell Creatures: Bizarre Demonic Art by Kyosai (Ukiyo-E Master #7) (Paperback)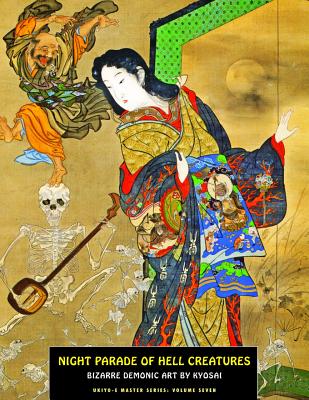 $38.45
Temporarily Unavailable
Description
---
Kawanabe Kyosai (1831-89) was only 6 years old when he joined the school of the great ukiyo-e master Utagawa Kuniyoshi, along with such fellow pupils as Yoshitoshi, who followed him in 1850. Later Kyosai studied traditional Japanese painting at the Kano school. As befits this varied apprenticeship, Kyosai would embrace many styles and methods during his artistic career. His eclectic approach may also be partly attributable to a legendary sake-drinking habit, which could account for the more bizarre extremes of his chosen subject matter -- in particular, weird demons and the bloody tortures of Hell. Kyosai can now be regarded as not only one of the last true ukiyo-e masters, but also as one of the first truly modernist painters of Japan.

"Night Parade Of Hell Creatures", edited by Jack Hunter (who also edited the ground-breaking extreme ukiyo-e anthology "Dream Spectres"), collects and considers over 100 of Kyosai's most innovative, demented and bizarre images -- including multiple yokai, ghosts and demons -- presented in large-format and full-colour throughout.

The Ukiyo-e Master Series: presenting seminal collections of art by the greatest print-designers and painters of Edo-period and Meiji-period Japan.