Words and Artworks in Byzantium: Twelfth-Century Poetry on Art from MS. Marcianus Gr. 524 (Hardcover)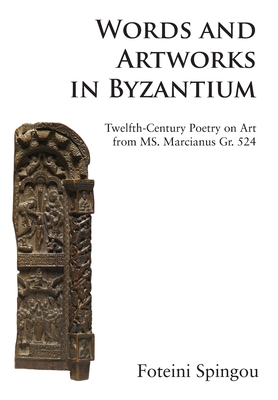 $52.20

NOT on our shelves now. Usually ships from warehouse in several days.
(This book cannot be returned nor exchanged.)
Description
---
The thirteenth-century manuscript Graecus Z 524 of the Biblioteca Nazionale Marciana in Venice is a little-explored treasure chest of Byzantine culture. Most of the prose and poetic texts it transmits do not survive elsewhere. Additionally, its very composition reveals Byzantine insecurities and anxieties after the tragic events of the fourth crusade. This book presents a preliminary attempt to explore the wealth of this material. It comprises three distinct yet complementary parts that analyse different aspects of the manuscript and the poetic texts it contains.
The first part details the manuscript's compilation with the help of codicology, palaeography, and cultural history. It concludes that, in the manuscript's current state, the page order is disturbed and that originally all poems -which are seemingly randomly dispersed in the medieval codex- formed a single, well-planned anthology made of eleven 'books' or chapters. The second and the third parts focus on the twelfth-century poetry related to objects of art (e.g. icons, frescoes, and mosaics) that is included in two 'books' from this anthology.
The second part brings to light previously unknown texts. The third part places these and other poems on works of art in their context. After showing that most of the known commissioners of epigrams were part of a single social network, the unattributed poetry is discussed as part of the occasion they were initially composed to serve. Subsequently, the analysis of the literary genre's poetics leads to the conclusion that these texts are above all testimonies of personalised rituals from an era that priced individuality highly. Finally, text and object are understood as a single artwork worthy of occupying a distinct place in the art market of twelfth-century Constantinople.
The book is based on a DPhil thesis submitted to Oxford University in 2013.