Iceapelago (Paperback)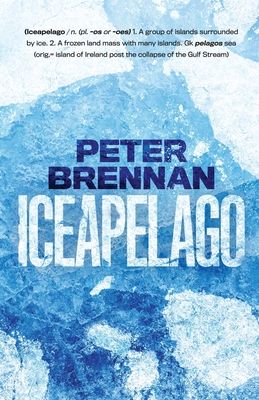 $14.99
NOT on our shelves now. Usually ships from warehouse in several days.
Description
---
ICEAPELAGO is a new word for a new world. ICEAPELAGO describes a country - in this case the island of Ireland - with ice covered seas and islands and tundra winter conditions.
This climate change thriller - a new sub-genre of environmental fiction - describes how ICEAPELAGO was formed.
There are three separate but interconnected story lines.
In Greenland, scientists in the Summit Station - 3,000 metres atop the ice sheet - undertake tests to determine the flow of surface meltwater as it cascades through the glacier's crevasses and sub-surface lakes to sea level. An innovative tracking device is used. The melting of the Greenland Ice Sheet is a tipping point and a direct threat to the nations of the North Atlantic.
Another different but related threat is the disruption of the Gulf Stream and the impact of its collapse on the countries that benefit from its moderating influence on weather patterns. The RV Celtic Explorer sets sails to the sea bed off Ireland's Continental Shelf and makes a discovery that nobody expected. A manned submersible witnesses disaster in the making.
The third storyline takes place on the island of La Palma in the Canary Islands. Here Spanish research students doing summer vacation work discover the first signs of volcanic activity in an area hitherto dormant. This triggers an international response. The Caldera de Taburiente explodes with dire consequences not just for the local population.
These dramatic events are related through the experiences of: Norwegian scientists, an Irish inventor, researchers from several countries and global bodies, the crew of a research vessel, an old and a young spy, mountain guides, pilots, hill walkers and tourists, and Prime Ministers. All witness or play a part in the generation changing circumstances that lead to the creation of ICEAPELAGO.
You will visit many locations: the Masters at Augusta, the British embassy in Dublin, Faro de Fuencaliente, Pico Bejenado, Roque de los Muchachos, Galway City, Ilulissat, Tasiilaq, the Johan Petersen Glacier, the Eriador Seamount, Oslo, Merrion Street (Dublin), Barlovento, the QM2 and Cobh.
ICEAPELAGO was formed after tsunamis destroyed the landscape. Rising sea levels and winter ice conditions forced the humans who survived to adapt. The first migrants were Artic foxes. Their story will be told in a sequel novel.
This is Peter Brennan's first work of fiction. He lives in Sandycove in Dublin. The book was inspired by his long interest in climate change and climate science. He visited Greenland, La Palma and the RV Celtic Explorer as part of his background research. Peter has published three non-fiction books and numerous reports about climate action and the low carbon economy.
This is a work of fiction which, hopefully, will never become fact.