Wholesome Greek Recipe Book: Great Recipes and instructions to satisfy your meal needs (Hardcover)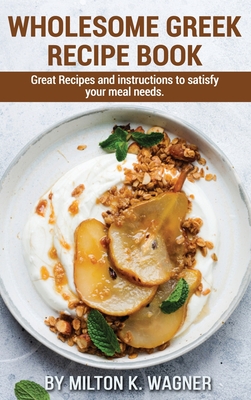 $24.00
Temporarily Unavailable
Description
---
★ 55% OFF for Bookstores Discounted Retail Price NOW
Your Customers Will Never Stop to Use this Awesome Cookbook
Greek food has a long tradition and is renowned for its wide variety of dishes, from delicious meat dishes and lemony salads to fresh seafood and syrupy baked goods. Like Europe's southwestern region, mainline Greece and the islands typically have a Mediterranean climate optimal for agriculture and horticulture. Olive oil, spices (thyme and rosemary are the most popular), onions, dairy, meat, beef, sheep, seafood, shrimp, and wine are central components in ancient Greece cuisine. Yogurt, butter, olives, milk, sausages, baklava and olive oil are other Greek areas of expertise.
You'll discover the following categories:
- Greek Food and Greek Cooking
- History of Greek Food
- Greek Breakfast, Snacks and Appetizers Recipes
- Best Greek Lunch Recipes Greek Delicious Dinner Recipes
- Vegetarian Greek Recipes
Follow this cookbook with straightforward instructions, prep, and cooking that much easier. You'll enjoy this one-of-a-kind cookbook for your favorite kitchen device cooking. Everything you need to get started is right here inside this cookbook.
Buy it NOW and let your customers get addicted to this amazing cookbook