Greek Recipes: The Complete Step by Step Cookbook with Quick, Healthy and Nutritious Traditional Recipes from Greece (Hardcover)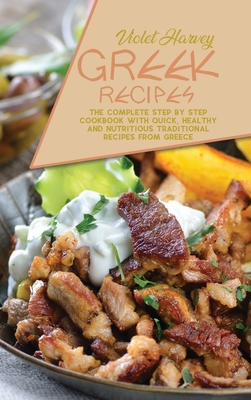 $31.97
Temporarily Unavailable
Description
---
Do you want to know everything about Greek Cuisine?
Your Customers Will Never Stop To Use This Amazing Cookbook
Greek food is an undoubtedly flavorful experience. By cooking at home, you have a hand in choosing fresh healthful ingredients as well as cooking methods. Plus you get the satisfaction of saving money on expansive takeout meals and adapting the recipes to your own preferences.
Greek food has spread its culinary influence throughout the world. It's renowned as some of the best food in Europe With an age-old tradition, Greek cuisine has been greatly influenced by both the West and the East. Fishes, seafood, fresh vegetables, and cheese play a significant role in the dishes, mostly because of its long coastline; in contrast, meat is treated as less popular.
Greek cuisine is an integral part of the Mediterranean culinary world wherein the main ingredients are olive oil, lemon juice, vegetables, spices, herbs, grains, bread, wine, olives, feta cheese, seafood, and different types of meat.
Each recipe in this GREEK RECIPES book is carefully selected and comes with a photo so that you'll have an idea as to how the finish product will look like.
This book covers:
- Adreana's Greek Pasta Salad
- Bastilla
- Bear Steaks With Greek Seasonings
- Braised Lamb Shanks In Lemon-Dill Sauce
- Bulghur Pilaf
- Fried Beer Batter-Coated Strawberries
- Fried Cinnamon Pastries With Honey Glaze
- Lamb And White Bean Ragout
- Lima Bean Plaki
- Pork Chops With Apples In Cider Sauce
- Rice Pilaf
- Roasted Chicken With Lemon-Parsley Sauce
- Stuffed Grape Leaves
- Whole Stuffed Leg Of Lamb
- Authentic Greek Moussaka
And much more
Buy it NOW and let your customers get addicted to this amazing book