Hágalo Usted Mismo Hecho En Casa Mascarilla: La guía rápida esencial sobre cómo hacer su mascarilla médica para el hogar y los viajes. Con patrones de (Hardcover)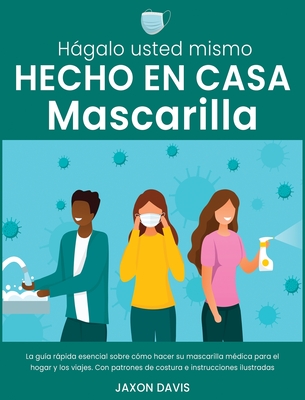 $29.95
Temporarily Unavailable
Description
---
"55% OFF for Bookstores Discounted Retail Price NOW "
A QUICK AND STRAIGHTFORWARD GUIDE TO MAKING YOUR OWN DIY HOMEMADE MEDICAL FACE MASKS
STEP BY STEP - SIMPLE PAPER PATTERN INSIDE WITH ALL MEASUREMENTS
Would you like to protect yourself and your family from viruses?
No problem This guide will teach you how to make 2 types of homemade masks using simple materials in a few minutes.
Do you find it difficult to book your facial medical mask in time for your every need?
Do retailers of security equipment near your residence have very high prices and incorrect prices?
If you've answered yes to at least one of these questions, this incredible book is just what you need.
In this book, you will find how you can create your own medical mask at home with simple materials and also a pretty simple procedure to follow as well.
Now, stores are running out of these masks, if you don't have access to them, you should just create your own.
Protect your family from virus today. Scroll up and grab your copy now.