Woodworking: 4 Books In 1 The Ultimate Guide to Realize Your First Indoor and Outdoor Step-by-Step Projects. From Beginners to Adva (Paperback)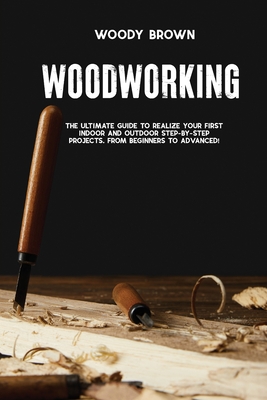 $46.97

NOT on our shelves now. Usually ships from warehouse in several days.
Description
---
Do you want to know the fundamentals of woodworking?
This book is intended to be an introduction to woodworking's fundamental tools, equipment, and techniques, for the beginner who has little to no familiarity with the subject. It should not be treated as exhaustive or all-encompassing. Working with wood involves a number of often-difficult skills that take years to master, and even specific subjects such as routing, or painting can hardly be summed up in a single volume. It's best to think of this book as your first step into a much larger world.
The activities in this book have been designed with a "learn as you go" approach-you'll be encountering the woodworker's basic tools and techniques at the same time that you're creating a series of increasingly complex projects. You may find that your finished projects are sometimes not quite as professional-looking as those pictured in the book-perhaps your sanding is uneven in spots, or one of your bench's legs is shorter than the other. In these cases, remember that woodworking skill needs time and practice to develop-the more experience you have with the tools, and the more you come to understand the unique qualities of different types of wood, the better your work will look.
Do keep in mind that woodworking provides plenty of opportunity to injure oneself. Exercise great care at all times when carrying out these projects, especially when power tools are involved. Read all instructions in this book carefully and be sure to also read the manufacturer's supplied instructions for all equipment that you use, with an eye to any safety precautions. It's critical that you pay attention to what you're doing at all times when working with wood, and that you use common sense.
The most important thing to remember about beginner's woodworking when it's all said and finished is you need to take it slow. Perfect any new ability when your path comes. Commit your memory to that new skill and own it. Then learn your next skill and try to master it again. Slowly build up both your resource library and your toolbox. Within a year or two, you'll find yourself at a much higher level than you are now.
This bundle contains 2 books
Book 1 covers:
What Is Woodworking?
History Of Woodworking
Woodworking Tools
The Best Kinds Of Wood For A Woodworking Project
Choosing The Right Wood For Your Woodwork Project
Tips To Clear Wood Odors
Skills You Need To Learn
Simple Woodworking Plans For Beginners
Woodwork Plans-Basic Tools Needed For Woodwork Projects
How Simple Woodworking Can Be For Beginners In Wood Projects
Woodworking Projects
The Woodworking Router And Its Supporting Tools
Woodworking Safety Tips
And Book 2 covers:
Types Of Woodworking
Hand Tool Woodworking
Power Tool Woodworking
Digital Woodworking
Blended Woodworking
Specialty Woodworking
Keeping Your Workshop Clean
How To Conduct Regular Repair And Maintenance Of Woodwork Tools
How To Avoid Mistakes That Could Lead To A Setback?
What Wood Is Good For Woodworking?
Hardwood Vs Softwood
Necessities for woodworking projects success
Workshop plans and design tips
Simple woodworking projects ideas to get you started
And much more
Buy it NOW and get addicted to this amazing book