Explicit Erotic Sex Stories: Kindly Wait for Me (Gay): Two disturbed men locate each other at an air terminal entryway (Paperback)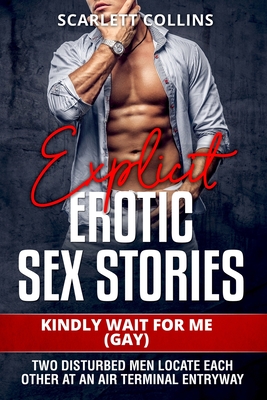 $23.95
Temporarily Unavailable
Description
---
Get comfortable, dim the lights and let your Imagination Run Wild with this Exciting Story...
Your Customer Never Stop Reading this Exciting Explicit Romance Novel Book
A story about two disturbed men who met each other at an air terminal entryway: a young man called James, who had lost his wife to a hit and run driver nearly two years ago, was celebrating his birthday. He misses his wife and would often claim no one would replace her place in his heart. During one of his yoga classes, he met a young man named Peter. He noticed he had no wedding band on his finger, which signifies he is also single. He noticed Peter, and over time, he noticed James also. Even though James' parents are staunch Catholics who have a strong hatred for gays or any form of gay activities, it did not stop James from being intimate with his new friend. Things got interesting between James and Peter, and one thing led to another. They became sexually connected, and they had the most amazing sex. Being gay is something James would never think he would do or engage in. But here he is enjoying being gay...
Buy it NOW and let your customers Become Addicted to the Incredible Series of Novels written by Scarlett Collins