Explicit Erotic Sex Stories: Kiss My Ass Brother (Taboo Milking): What happens when younger siblings can't help themselves? (Hardcover)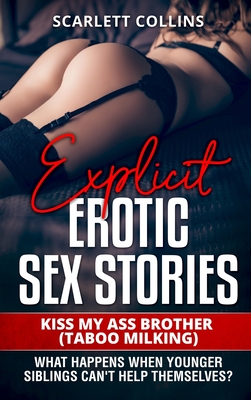 $33.95
Temporarily Unavailable
Description
---
Get comfortable, dim the lights and let your Imagination Run Wild with this Exciting Story...
Your Customer Never Stop Reading this Exciting Explicit Romance Novel Book
Blake and Ezra found pleasure and solace in each other's arms; they sneak away to do their stuff at night in order to avoid being caught. Even though their elder sister Lucia noticed something was going on, she could not pinpoint what exactly was going on. One night she woke up in the middle of the night, she noticed something was just not right. She had to down the hallway to check things out; she met her younger siblings Blake and Ezra together. Even though it was late at night, she could still get the perfect picture, and what she saw was surprising to her. She saw Ezra and Blake together, intimate, having sex, and they did not seem to be having their first time together as the experience has been happening for quite some time, and they both seemed to enjoy it. The sexual experience and intimacy where both parties enjoy and always look forward to it at any given opportunity. The sexual encounter between two siblings gave way to great sexual exploits and intimacies...
Buy it NOW and let your customers Become Addicted to the Incredible Series of Novels written by Scarlett Collins