Stoicism and NLP Secrets: Learn all the Techniques of Stoic Philosophy and NLP to Live a Good Life. Find Calmness and Confidence, Build Resilien (Hardcover)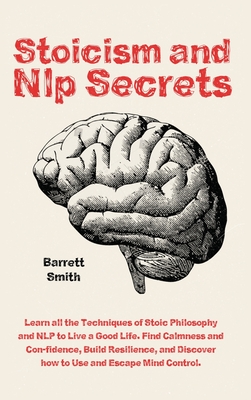 $34.90
Temporarily Unavailable
Description
---
Are you interested in learning how NLP can change your life? Have you allowed your emotions to determine your destiny? Are you familiar with Stoicism? If you answer to these questions is yes, this is the right book for you
Neuro-Linguistic Programming, or NLP, is one of the most prevalent mind control systems in the world. It is applied by nearly everyone, from politicians to marketers to media personalities. NLP was invented in the 1970s; over time, it has become strongly interwoven with how people are communicated to and even marketed.
NLP can also be useful to help people solve issues such as anxiety, PTSD, and fears. While some people utilize NLP for good, others use it for darker desires.
Stoicism, instead, is a great way to live a better, calmer, more virtuous life. This philosophy contains generations of wisdom and offers a way to cope with tragedy and accept life on life's terms. Stoics flow easily through life, taking whatever comes their way and never wishing for the impossible. The best Stoic will never want for anything but what nature gives to them.
Stoicism takes time, dedication, meditation, and practice, but all the effort you put into it will be well worth it. As you practice it, your brain will begin to change, and what once seemed so tricky will become second nature to you. You will find that your happiness no longer depends on "good" things happening to you.
This bundle covers:
-What Is NLP And What Can It Do for You?
-How to Read People's Mind
-The Power of Conversational Hypnosis
-The Stoic Happiness Triangle
-Stoic Practice and its Benefits
-Stoic Living
...And much more
Now is the time to change your life. Click here to buy this bundle now