Bedtime Stories for Kids: Fun and Calming Tales for Your Children to Help Them Fall Asleep Fast! The Cobra and the Crows and other beautiful sto (Paperback)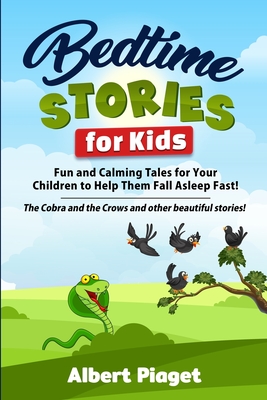 $20.97
Temporarily Unavailable
Description
---
Do you find yourself having all manner of power struggles with your child whenever it comes to matters to do with going to sleep because they are still too excited to fall asleep?
And are you considering introducing bedtime stories to make them wind down, relax and easily fall asleep without being too chatty and playful when bedtime comes?
If you've answered YES, keep reading...
You Have Just Discovered The Best Collection Of Bedtime Stories Specially Meant For Kids
Bedtime stories have for a long time been used to get children to sleep, have a good night sleep, not have nightmares and more.
In short, they are a tried, tested and proven method of getting children to sleep, even those that don't like stories, perhaps because of the soothing, calming and relaxing nature of bedtime stories.
Perhaps you too had your parents read bedtime stories to you and you wish to adopt the same approach with your little ones now that they are of age and looking at this book, you are wondering...
Does the book have a wide variety of stories to ensure even those that get bored easily have something new almost every night?
Are the stories of a good length for children to ensure you don't take too long reading them?
Are the stories unique and educative while providing a soothing and calming experience for the little ones?
The answer to all these questions is a resounding YES
More precisely, this book features:
● A collection of short stories that are all centered around getting your child into a trance state and from that trance state into a serene and peaceful sleep
● Each story has its own unique mindscape to help them actively push out negative thoughts and allow for more tranquil and relaxed body
● The stories have a perfect flow to lure them into a deeper state of consciousness so that they can be more relaxed and easily enter into sleep
● The stories are also fun and entertaining to help even the most stressed out and energetic child to relax and slowly journey into the realm of sleep
● And much more
Getting your child to sleep doesn't have to be hard or anxiety triggering
Even if you've been struggling to get them to bed for months or even years, this book will be the beginning of a new phase for both of you, as your child will be excited about the stories, which, interestingly, will make them fall asleep fast