Taboo Sex Stories: 3 Erotic Sex Stories Of Forbidden Secrets (Paperback)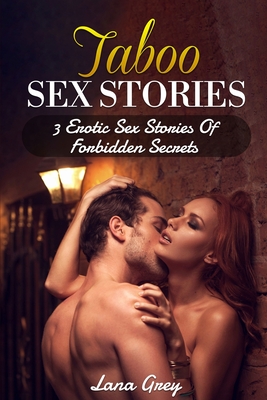 $19.99
Temporarily Unavailable
Description
---
NOT FOR THE FAINT OF HEART - 3 IMMORALLY DELICIOUS Taboo Sex Stories That Will Leave You Wanting More
Are you tired of living such a vanilla life, that you desperately crave for some toe-curling action that will leave you breathless?
Are you ready to reel with uncontrollable pleasure as you read about tales that will keep you on the edge?
Are you excited to indulge in wild, seductive sex stories filled with people who simply do not know how to hold back?
Welcome to the exciting world of the sexually free
TABOO SEX STORIES is the MASTERPIECE of award-winning sex therapist and author, Lana Grey. In her book, you will watch your darkest fantasies come to life page after page Go on a rollercoaster of emotions as you dive into the lives of the sexually uninhibited, where everyone makes thrilling choices with reckless abandon.
Over the course of this deliciously taboo book, you will:
Get excited as you explore the WILD world of people who indulge in the seductively taboo
Widen your imagination and SPICE UP your sexual fantasies with TOE-CURLING stories
Beg for MORE, MORE, MORE
In TABOO SEX STORIES, you will get 3 LUSTFUL sex stories from our HOT EROTICA COLLECTION of forbidden secrets. Make some hot tea and curl up on your couch, as you indulge in steamy tales of hot stepmoms, sexy biology teachers, and so much more
Grey believes that you should NEVER feel guilty for having pleasures - they're what makes us come alive Everyone has a sex kink, and people should never police what others find hot and exciting. Life is too short for that, and she encourages you to live it to the fullest
Get Your Copy Today and Brace Yourself for a Hot, Steamy Ride