Forbidden Explicit Erotica: 8 Taboo Sex Short Stories about Milf, Dirty and Naughty Young Adults, Spanking, First Time. A Collection of Sex Storie (Paperback)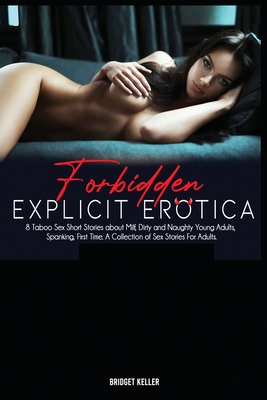 $19.00
Temporarily Unavailable
Description
---
Discover a highly erotic and titillating collection of ridiculously risque short stories that are sure to get you hot under the collar, no matter your tastes
Are you searching for a treasure trove of highly arousing erotica that are sure to hit the spot and get your panties in a twist?
Do you want to take your mind on a highly indulgent trip to a fantasy land filled with steamy romance scenes? Are you tired of "plain-jane" romance erotica and are looking for something a little more hardcore and racy?
If your answer is yes to any of the questions above, then you've come to the right place
This collection of erotic short stories is packed 10 outrageously filthy fantasies with sizzling hot, exciting, and highly graphic action that will keep you enthralled and wanting to keep turning the pages until the very end.
From sex slaves and dirty daddies to orgies and horny neighbors, there is something in the pages of this collection that is sure to stimulate your imagination in highly pleasurable ways
Designed for fans of hardcore erotica, Forbidden Explicit Erotica is not for the "faint of heart", so close the door, lower the curtains and find intense pleasure at the tips of your finger with any of these erotic fantasies that will provide the perfect escape into a highly charged world of sexual desire and fulfillment
Ready to lose yourself in an incredibly erotic adventure?