Overthinking: How to Declutter Your Mind, Remove Anxiety and Negative Thoughts, and Improve Your Social and Working Life. (Hardcover)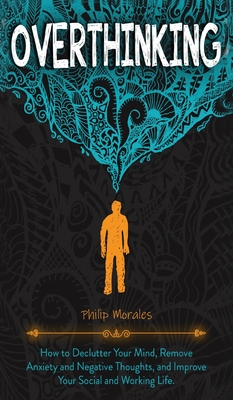 $26.99
Temporarily Unavailable
Description
---
You Are 1-Click Away From Breaking The Endless Cycle Of Overthinking That You Never Seem To Break, To Find Freedom, To Get Stuff Done, To Overcome Fear, Worry And Anxiety That's Often Fueled By Overthinking And Much More
We all have a part of us that wants to be sure about literally every aspect of our life. A part that looks into the ins and outs of every opportunity or challenge to find solutions to all the challenges that we may come across. It is the cautious part of our brains that's always looking out for us to ensure we don't set ourselves up to fail.
Unfortunately, while it is very helpful, sometimes it is not as helpful. In fact, sometimes, it does limit us and makes it impossible for us to move forward, take advantage of opportunities as they arise, deal with challenges head on and achieve the success we so much desire.
Excessive overthinking can set you up for failure and make your life miserable in so many ways, including damaging your self-confidence, self-esteem, inducing fear, anxiety and affecting other facets of your life.
By virtue that you are reading this, I know you know just what overthinking has cost you so I don't need to rub it in any further. I know you are looking for answers and solutions to your overthinking problem.
And lucky for you, this book seeks to provide answers to any questions you may have about your overthinking problem, to help you recover and start taking action without thinking too much.
If you always wonder...
Why do I think too much?
Why can't I just stop it whenever I want to?
What long term risks exist for my overthinking problem?
And how do I overcome it for good?
This book will answer these and other questions in a simple, easy to follow language to help you break the endless cycle of overthinking
Here is a preview of what you will learn:
How to know that you are overthinking
Why you are always overthinking
Why is it important to take decisive action
The link between fantasizing and overthinking
How to prevent overthinking and inaction
Steps to overcome anxiety, fear and worry that can cause overthinking
How to remain positive and manage negative thoughts
How to understand, process, manage and embrace negative emotions without dwelling on them
How to cultivate healthy habits that will prevent you from overthinking
How to muster enough courage to take ACTION NOW
And much more
If you are tired of always overthinking and not taking action and losing many opportunities because of this, then you need to take the first step and buy this book.
Do not overthink it...
Just click
Buy Now With 1-Click
or
Buy Now
to get started