Schmegoogle (Hardcover)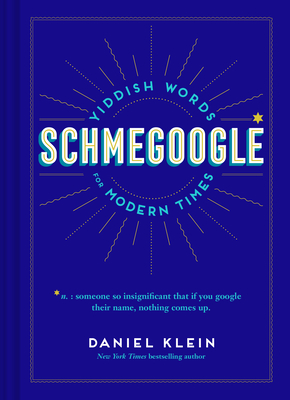 Description
---
Schmegoogle:n. : a person so insignificant that if you Google his name, nothing comes up.

Schmegoogle: Yiddish Words for Modern Times is a hilariously useful lexicon of neologisms that capture the flavor of life as we live it today.

This clever book introduces more than 200 new terms rooted in real Yiddish, accompanied funny use-it-in-a-sentence examples and entertaining etymology.

• Yiddish has long enriched English language slang.
• Covers subjects including technology, family, dating, anxiety, insults and more
• All terms are a unique blend of classic Yiddish with modern topics

In this fast-changing modern world experienced online and through apps, of foodies, legal weed, and shifting social constructs, our need for the expressive wonders of Yiddish has never been greater.

Bothered by that unanswered drift of e-mail piling up (e-charazi), stuffed by food or worry (gifilted), feeling like the dating app sends in only clowns (a zhlub magnet)? Schmegoogle is here to help.

• Hilarious useful Yiddish neologisms for the 21st century
• Makes a great gift for Jewish holidays or anyone who loves Jewish humor, as well as language nerds.
• Perfect for display on the coffee table to crack open anytime
• Add it to the shelf with books like Yiddish with Dick and Jane by Ellis Weiner and Barbara Davilman, Born to Kvetch: Yiddish Language and Culture in All of Its Moods by Michael Wex, and Yiddish with George and Laura by Ellis Weiner, Barbara Davilman.
About the Author
---
Daniel Klein is the New York Times-bestselling coauthor of Plato and a Platypus Walk into a Bar and the author of many other fiction, nonfiction, and humor titles. He lives in Great Barrington, Massachusetts.
Praise For…
---
"Corny Jewish humor has rarely felt this fresh." -The Awesomer

"It's a pun-filled compendium that amusingly mashes up modern English with words and phrases from the mama-loshen (mother tongue)." -Jewish Journal