Duino Elegies, Deluxe Edition: The original English translation of Rilke's landmark poetry cycle, by Vita and E dward Sackville-West - reissued for the first time in 90 years (Hardcover)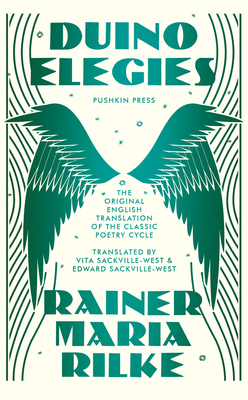 Description
---
The first-ever English translation of Rilke's landmark poetry cycle, by Vita and Edward Sackville-West ­– reissued for the first time in 90 years

In 1931, Virginia and Leonard Woolf's Hogarth Press published a small run of a beautiful edition of Rainer Maria Rilke's Duino Elegies, in English translation by the writers Vita and Edward Sackville-West. This marked the English debut of Rilke's masterpiece, which would eventually be rendered in English over 20 times, influencing countless poets, musicians and artists across the English-speaking world.

Published for the first time in 90 years, the Sackville-Wests' translation is both a fascinating historical document and a magnificent blank-verse rendering of Rilke's poetry cycle. Featuring a new introduction from critic Lesley Chamberlain, this reissue casts one of European literature's great masterpieces in fresh light.
About the Author
---
Rainer Maria Rilke (1875-1926), considered one of the greatest German-language writers, published his first collection of verse in 1894, while he was still at school, and continued to write poetry and prose throughout his life, becoming a master of both. Rilke died in Switzerland in 1926. Vita Sackville-West was an English novelist, poet and garden designer. Born to an artistocratic family, she became a prolific and successful author, publishing many novels and a dozen volumes of poetry. Sackville-West had a long, intense relationship with Virginia Woolf, and was the main inspiration for the titular character in Woolf's Orlando. Edward Sackville-West was an English novelist and music critic who, in his later years, became a member of the British House of Lords.