Beginner's Guide to Screen Printing: 12 beautiful printing projects with templates (Paperback)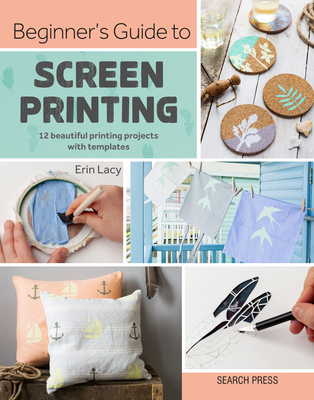 $15.95
Temporarily Unavailable
Description
---
Screen printing is made accessible in this beautiful step-by-step guide featuring twelve projects.

In this Beginner's Guide to Screen Printing, Erin Lacy shows you how to make your own screen using an embroidery hoop and silk fabric, and demonstrates how to create beautiful designs that are easy to achieve. Using modern techniques, screen printing is an accessible and affordable craft!

Discover how to print onto different surfaces such as wood, cork and fabric, and create twelve stunning, botanical and coastal-themed projects through bright and colourful step-by-step photography.

The photography, by Belgian talent Virginie De Man, is taken on location at Erin's own studio in St. Ives, Cornwall, as well as in and around the coastal town itself. The book includes full-size templates and inspiration on how to design your own templates and motifs.
About the Author
---
Erin Lacy traded in her urban roots for walking boots when she moved to open up a print studio in the creative Cornish seaside town of St. Ives (UK) where she currently lives. Erin trained at the London College of Fashion, always surrounding herself with the textile world through work and leisure. Erin decided to set up a business to promote printing as a craft, from demonstrating print techniques from her studio to popping up at shows and providing workshops. From this Erin also found a gap in the market to start producing her own paint range of ready to go hand-mixed printing paints. Pick Pretty Paints evolved purely from having not being able to find a paint medium for all print methods to use around a table or on the go. Erin has been selected for a number of features to promote print as craft, alongside Kirstie Allsopp's team at Handmade Shows and Fairs across the UK and demonstrating Christmas printing gift wrap ideas on Kirstie's Handmade Christmas TV program.

Erin aims to show how easy and accessible print can be with the basic tools and techniques to hand. Her Beginner's Guide to Screen Printing will inspire readers to print wherever they may find themselves, and will take a fresh different approach to screen printing to spark new ideas and inspire crafting fun.
Praise For…
---
Booklist Dec 1, 2019
Screen printing might bring t-shirts immediately to mind, but the focus here is on working with nonstretchy printing surfaces, such as paper, wood, cork, and woven (not knit) fabric. Twelve projects illustrate practical tips and instructions for using a variety of methods to create printed wall art, stationery, home décor, and more. Readers are provided tutorials for creating silk screens using wood or metal frames that can be sized according to the specific needs of a particular project. An alternative method using embroidery hoops is also included, and though it is more akin to stenciling using a sponge dabber instead of a blade or squeegee like true screen printing, it affords a useful introduction to the concept. Color photographs make the step-by-step instructions for each project easy to follow, and while a selection of supplies is required for any of the projects, it is clear that accessibility without a significant up-front investment in tools has been considered. This guide will provide crafters with what they need to learn and get comfortable with the technique.
Anne Heidemann,