Make Great Art on Your iPad: Tools, tips and tricks for using Adobe Photoshop Sketch, Procreate, ArtRage and many more (Paperback)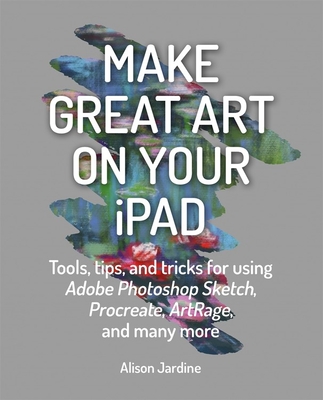 $18.99
ON HAND in at least ONE of our stores. Click through or call for up-to-the-minute availability.
Description
---
Explore your creative talents and produce amazing artworks on your iPad and iPhone.
Fully revised to reflect the latest updates in the most popular creativity apps, this is the original, best-selling guide to using creative apps on your Apple device to produce your very own masterpieces.
Artists like David Hockney have taken to creating art on the iPad, but you don't have to be an artist to achieve great results on your device. This refreshingly accessible book is perfect for skilled artists and creative wannabes alike.
Alongside the step-by-step projects that teach the fundamentals of digital painting, there are also some easy and fun artistic tricks that anyone can try. You'll master the most popular art apps, and you will learn new painting and drawing skills along the way.
Includes advice on using Procreate, ArtRage, Art Studio for iPad, Adobe Photoshop Sketch, Pen & Ink, Brushes and Tayasui Sketches Pro.
About the Author
---
Alison Jardine is a British artist living and working in Dallas, Texas. Her work is multidisciplinary, and she uses paint, fabrics, drawing, concrete, video and construction materials. From 2010 to 2011 she set up the 365 iPad Project for which she created a new iPad artwork every day. She was commissioned to create an iPad work for a social media project for the London Olympics, and her digital art has been featured in several art magazines. She teaches an iPad workshop at the Dallas Museum, and continues to explore the iPad alongside other media.