The Contradictions (Paperback)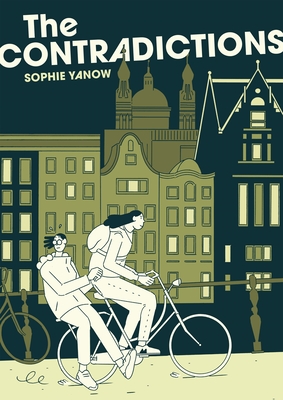 Description
---
The Eisner Award–winning story about a student figuring out radical politics in a messy world

Sophie is young and queer and into feminist theory. She decides to study abroad, choosing Paris for no firm reason beyond liking French comics. Feeling a bit lonely and out of place, she's desperate for community and a sense of belonging. She stumbles into what/who she's looking for when she meets Zena. An anarchist student-activist committed to veganism and shoplifting, Zena offers Sophie a whole new political ideology that feels electric. Enamored—of Zena, of the idea of living more righteously—Sophie finds herself swept up in a whirlwind friendship that blows her even further from her rural California roots as they embark on a disastrous hitchhiking trip to Amsterdam and Berlin, full of couch surfing, drug tripping, and radical book fairs.

Capturing that time in your life where you're meeting new people and learning about the world—when everything feels vital and urgent—The Contradictions is Sophie Yanow's fictionalized coming-of-age story. Sophie's attempts at ideological purity are challenged time and again, putting into question the plausibility of a life of dogma in a world filled with contradictions. Keenly observed, frank, and very funny, The Contradictions speaks to a specific reality while also being incredibly relatable, reminding us that we are all imperfect people in an imperfect world.
About the Author
---
Sophie Yanow is an artist and writer based in the San Francisco Bay Area. The Contradictions is her first book with Drawn & Quarterly, the webcomic of which won an Eisner Award and was nominated for the Ringo- and Harvey Awards. Yanow is also the author of What Is a Glacier? and War of Streets and Houses. Her comics have appeared in The New Yorker, The Guardian, Fusion, Los Angeles Review of Books, and The Nib. She has been a MacDowell Colony Fellow, and her translation of Dominique Goblet's Pretending Is Lying received the Scott Moncrieff prize for translation from French. Yanow has taught at the Center for Cartoon Studies, the New Hampshire Institute of Art, and the Animation Workshop in Denmark.
Praise For…
---
"The Contradictions is a masterpiece. Sophie Yanow's tale of hitchhiking around Europe under the spell of a sulky, fixie-riding anarchist is a pitch-perfect portrait of youthful disillusionment and self-discovery. Yanow's impeccable ligne claire drawing seems to mathematically cancel out everything nonessential in her panels, and the effect is surprisingly, even transcendently, emotional." —Alison Bechdel, author of Fun Home

"The Contradictions is Yanow's best work yet. The atmosphere of Yanow's lines paired with the clarity of her writing form a style of comics that I have never seen before. Every panel makes you want to cry and laugh simultaneously." —Tillie Walden, author of On a Sunbeam

"The Contradictions isn't just an engaging read, it's a warming and affirming one." —NPR

"This funny and very knowing graphic novel will still strike an exceedingly loud chord with anyone who is, or has ever been, a fresher, far from home and all at sea." —Rachel Cooke, The Guardian

"Yanow's voice is pointed, her cartooning delightfully specific without being precious or showy. [The Contradictions] subtly, effectively challenges readers to dig into their own internal dissonance."
—Library Journal

"The Contradictions captures that period of trying on a self, and is by turns discomfiting and funny… Using only a few lines and a slender story, Yanow conjures the particular pleasure of wandering aimlessly around a European city." —Rumaan Alam, The New Republic

"Yanow's book—with its neatly organized six-panel pages, observant narrator, and simple black-and-white illustrations—is surprisingly calm for all the wild events that happen, but that's probably the point. Across all the adventures, Sophie's doing her best to find herself. And eventually, she'll find her way to a place where she can call home." —San Francisco Weekly

"The Contradictions can evoke a sense of nostalgia—not just for younger days in all their complications, but also for travel. Each time the girls pass up an opportunity to visit a museum or join friends dancing, you may want to shake them by the shoulders and tell them to suck the marrow out of every moment. But ultimately, you'll want to lay on the couch all day and read The Contradictions in one sitting." —The Rumpus

"Achingly funny." —The Irish Times, Best Graphic Novels of 2020

"A clever, endearing tale of the thrill of falling in with someone new, and the relief of returning to oneself."
—Booklist

"As the title highlights, Sophie is pushed and pulled between extremes, frequently contradicting herself in exchanges and social interactions (as well as in her own internal monologue). The strength of the story is its ability to show these contradictions not just as youthful weaknesses or mistakes, but as testament to the complex layers that come with growing up." —Elephant

"Exciting new work from a writer-artist who seems set to be a cornerstone for the industry for years to come."
—Comic Book Resources

"[The Contradictions is] delivered in a comics style that has clarity of line and of writing, and its maturity creeps up on you." —The Toronto Star

"Drawn in a black-and-white ligne claire style and primarily laid out on a six-panel grid, The Contradictions' understated visuals sell the austerity of Sophie's study abroad experience, which loses its wonder when Sophie understands the personal cost." —The AV Club