Soulman: The Rocky Johnson Story (Hardcover)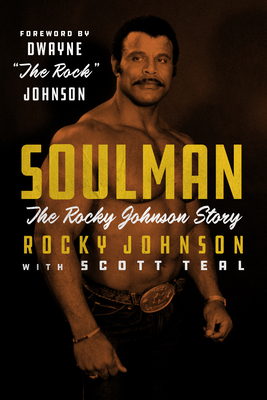 Not available to order
Hard to Find. Not available to order.
Description
---
A memoir from wrestling legend and ground-breaking Black athlete, Rocky Johnson.
At 14, Rocky Johnson left Nova Scotia to seek fortune and make professional wrestling his career. An incredibly agile and talented wrestler for a man his size, he soon became a featured main-eventer in every territory he worked - from Los Angeles to New York, and all points in between. He also appeared in wrestling arenas worldwide, including in Canada, Japan, Saudi Arabia, Samoa, and Puerto Rico.
In Soulman, Johnson not only explores his career accomplishments, but also reflects upon what his achievements, as a direct descendant of slaves, mean historically and for Black culture. In the South, he shattered racial barriers when he became the first African-American to win the Southern, Georgia, and Florida heavyweight titles, and in 1983, he teamed with Tony Atlas to become the first all-Black WWWF tag team champions.
Soulman: The Rocky Johnson Story is an in-depth look at the life of a self-made man who wouldn't let anything stand in his way on the road to success.
About the Author
---
For more than 20 years, Rocky Johnson was a top-tier professional wrestler, sought after by promoters from all over the world. He is a WWE Hall-of-Famer. Scott Teal may be the world's most prolific historian of pro wrestling. Under his own imprint, Crowbar Press, he has written, edited, and published more than 140 works, and his books stand out as some of the most important and celebrated in the field.