A House Party in Tuscany (Hardcover)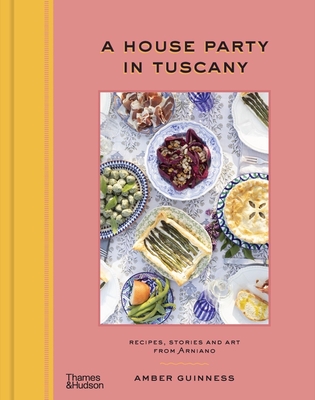 $50.00

Click the TITLE to view store availability
Description
---
Art meets food in this celebratory story of family and friends in Tuscany at the Arniano Painting School. 
Few farmhouses in Tuscany are as magical as Arniano. Bought and restored in the 1980s by an English couple, this 18th-century ruin, surrounded by staggering beauty as far as the eye can see, became synonymous with delicious food and sparkling company.
At Arniano, their daughter, Amber Guinness, found a passion for cooking and established The Arniano Painting School with cofounder William Roper Curzon. A marriage of food and art, the school celebrates Amber's cooking and hosting skills and William's talents for imparting his knowledge and passion for painting.
Showcasing inviting and lush photography of the farmhouse's interiors and exteriors alongside mouthwatering images of simple and flavorful dishes, A House Party in Tuscany collects recipes from 30 years of cooking and hosting at Arniano, exemplifying fundamental principles of Italian home cooking.
With essential ingredients for an Italian pantry; feast curation; menu suggestions for every season; notes on Italian wines; day trips from Arniano; tricks and rules for cooking that can be applied to any lunch or dinner party, whatever the season; guidelines to seemingly effortless cooking and hosting, this is a book to make everyone feel welcome. 
About the Author
---
Amber Guinness was born in London and grew up in Tuscany., In 2014, she founded The Arniano Painting School, a residential painting holiday. These artists' retreats are centered around creativity and food and have been featured in The New York Times, House & Garden, and various other international magazines. She now lives in Florence. A House Party in Tuscany is her first book.
Praise For…
---
[An] enchanting look at cooking in the Italian countryside... Guinness provides readers recipes for creating their own culinary escapes... Life under the Tuscan sun proves exceptionally dreamy in this alluring collection.
— Publishers Weekly

Having thoroughly enjoyed my dear friend Amber Guinness's hosting for almost two decades I'm thrilled she finally decided to jot down her methods and recipes on paper. It's a joy to cook from and has already provided me with a range of new go-to dishes. Her writing is also a beautiful account of growing up in Italy.
— Beata Heuman

 The cookbooks that stay with us tell a story. A House Party in Tuscany is one to treasure. Delicious recipes from a region I love and a chef I admire Ruth Rogers 

— Ruth Rogers

A stunning book in every way. Amber Guinness paints such a dreamy,
evocative picture of her home in the Tuscan countryside and of the
sumptuous feasts she cooks there. I long to be there with her and to eat
everything in this book.
— Skye McAlpine

 I love this book. Amber Guinness is an inspired cook and hostess. More
importantly, she really understands the culture, technique and taste of
Tuscan cooking 
— Loyd Grossman

A truly beautiful book with food as colorful as paintings and thoughtful menus guided by the Tuscan seasons.
— Emiko Davies

Romance and joie de vivre come across in Guinness's debut cookbook, A House Party in Tuscany...part cookbook, part memoir, and part ode to the art of entertaining.

— Air Mail