HYPERAUTOMATION (Paperback)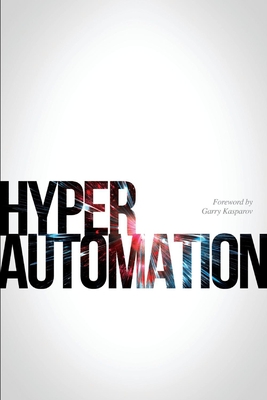 $16.49

NOT on our shelves now. Usually ships from warehouse in several days.
Description
---
HYPERAUTOMATION is a collection of expert essays on low-code development and the future of business process automation. In each chapter, an academic, analyst, implementer, or end-user examines different aspects of low-code and automation in the enterprise, clarifying both value and barriers through personal experiences and insights.

With contributions from:
Dr. George Westerman, MIT - Neil Ward-Dutton, IDC - Lakshmi N, Tata Consultancy Services - Sidney Fernandes & Alice Wei, University of South Florida - Lisa Heneghan, KPMG - Chris Skinner, FinTech expert - John R. Rymer, Forrester (Emeritus) - Isaac Sacolick, StarCIO - Darren Blake, Bexley Neighbourhood Care - Rob Galbraith, InsureTech expert - Ron Tolido, Capgemini - Michael Beckley, Appian

All proceeds from the sale of this book will be donated to Black Girls Code, an organization providing young girls of color opportunities to learn in-demand skills in technology and computer programming.
About the Author
---
Matt Calkins is founder and CEO of Appian. Matt grew Appian from a startup in his basement to the most successful software IPO of 2017. He has served on the board for the Northern Virginia Technology Council, the Virginia Public Access Project and the Sorensen Institute.Garry Kasparov is a Russian chess grandmaster, former World Chess Champion, writer, and political activist, whom many consider to be the greatest chess player of all time.Neil Ward-Dutton is Vice President, AI and Intelligent Process Automation European Practices, at IDC. Prior to joining IDC, Neil was Founder and Research Director of MWD Advisors, a technology advisory firm focusing on digital technologies and their impacts on business. Neil is recognized as one of Europe's most experienced and high-profile technology industry analysts. He has regularly appeared on TV and in print media over his 20-year industry analyst career as well as authored more than 10 books on IT and business strategy.Dr. George Westerman works at the intersection of executive leadership and technology strategy. He is a Senior Lecturer at the MIT Sloan School of Management and Principal Research Scientist for Workforce Learning at the MIT Jameel World Education Lab. Westerman has co-authored three award-winning books, including Leading Digital: Turning Technology Into Business Transformation and The Real Business of IT: How CIOs Create and Communicate Value. His writing, teaching, and consulting focus on helping leaders make sense of complex transformational challenges created by technological and market innovations.Muthulakshmi (Lakshmi) N is Global Head of Intelligent Process Automation and AI at Tata Consultancy Services (TCS), India's largest information services company. She has more than 18 years of experience in managing large transformation programs for Fortune 100 Clients in the U.S. and Europe. Lakshmi has also led and played a crucial role in a variety of strategic initiatives including TCS's MFDM? (Machine First Delivery Model) which re-imagined how digital transformation delivers exponential value.Sidney Fernandes is the System Vice President for Technology and Chief Information Officer for the University of South Florida. He oversees IT for all USF campuses and USF Health IS. He has achieved significant success applying data and principles of Agile development to solve business problems within the IT team and the enterprise at large.Alice Wei is the University of South Florida's Senior Director of Digital Innovations.Chris Skinner is known as one of the most influential people in technology, and as an independent commentator on the financial markets and fintech through his blog, the Finanser.com. Mr. Skinner has been an advisor to the United Nations, the White House, the World Bank and the World Economic Forum, and is a visiting lecturer with Cambridge University as well as a TEDx speaker.Isaac Sacolick is a successful CIO who has led digital transformation, product development, innovation, agile management, and data science programs in multiple organizations. He is President of StarCIO, where he guides organizations on smarter, faster, safer, and innovative transformation programs. Isaac is the best-selling author of the book Driving Digital: The Leader's Guide to Business Transformation Through Technology, writes an award-winning blog called "Social, Agile, and Transformation," shares best practices in "5 minutes with @NYIke," and is a contributing editor at InfoWorld.John R. Rymer is a former Vice President & Principal Analyst at Forrester Research. He coined the term "low-code platforms" and led Forrester's research on low-code development platforms. He is a leading expert on enterprise application development practices, technologies, and platforms for more than 20 years. Forrester recognized him with its prestigious Bill Bluestein Research Award and Lowcode.com recognized him as a top influencer in its Low-Code50.As Chief Digital Officer and a member of the Executive Committee of KPMG, UK, Lisa Heneghan leads the firm's digital and technology practice, which helps large organizations navigate the complex technology, risks, and organizational aspects of business transformation. Heneghan is a seasoned executive with over 25 years' of experience. She is also the driving force behind KPMG's own digital transformation. She is a champion of inclusion and diversity in the technology industry and sponsors KPMG's 'IT's her Future,' a program aimed at bridging the gender gap in technology.Darren Blake is the Chief Operating Officer at Bexley Health Neighborhood Care (BHNC). Bexley is part of the SE London Clinical Commissioning Group within the United Kingdom's National Health Service.Rob Galbraith has more than 20 years of experience in the financial services industry, including expertise in Property & Casualty insurance (P&C), banking and investment markets. Galbraith is a recognized thought leader on Property and Casualty insurance, a best-selling author and notable insurtech commentator. Also known as "The Most Interesting Man in Insurance" for his thought-provoking commentary, Galbraith is a frequent conference speaker and highly-ranked insurtech influencer. He is on a mission to help organizations everywhere turn innovation from a side-show into a functional discipline.Ron Tolido is Executive Vice President and Chief Technology Officer at Capgemini Insights & Data.Michael Beckley leads Appian's technology vision and oversees customer initiatives worldwide in his role as Chief Technology Officer and Chief Customer Officer. Michael serves on the Industrial Advisory Board for the University of Virginia's Computer Science Department, the Advisory Board of the Center for a New American Security, the Advisory Board of 1843 Capital, and is a Board Member of ContactEngine, a conversational AI software company. He is a founder of Appian.