Tox-Sick Girl: The Ups & Downs of Tattooing (Paperback)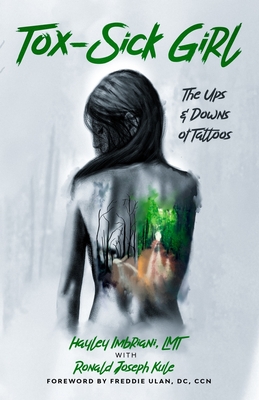 $15.00
Temporarily Unavailable
Description
---
A short (under 42 pages), simple, and easy-to-read book, Tox-Sick Girl by Hayley Imbriani, LMT, CCPA with Ronald Joseph Kule, acclaimed biographer, author, and novelists, with foreword by Freddie Ulan, DC, CCN, is relevant and helpful to laypersons with tattoos, those thinking of getting one, and clinicians and practitioners who work with people who have tattoos.
Tattoos can contribute to things going wrong with bodies, despite the beauty and meaning they represent to people who have them. People generally are not aware of possible connections of their aches and pains with tattoos on their skin.
This book about the upsides and downsides of tattooing is timely. The information is important to know about, read, and understand. Its clarity and anecdotal style, including the actual trauma experienced by Imbriani with her tattoos, makes this an easy relevant read. As a result, laypeople and practitioners will become more aware of not only the aesthetics but also the dangers associated with getting tattoos.
Tox-Sick Girl captures the essence of the history of tattooing and how the art uniquely affects people all around the globe.
The format is saddle-stitched, softcover. An eBook will also be released. Wholesale orders from clinicians and practitioners are welcome for the purpose of making copies available to their patients.