The Wig Diaries (Paperback)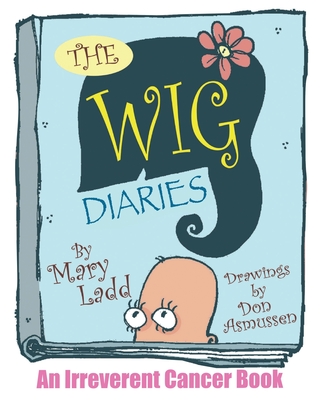 $21.99
On Our Shelves Now. Call store for up-to-the-minute availability.
Description
---
The Wig Diaries is Mary Ladd's debut disrespectful cancer book. Delivered with bold gallows humor, it intimately address the gravity of cancer and invites the reader to bear witness to both the horror and the joke(s). Armed with creative sensibility, Ladd robs her diagnosis of its dour weightiness. Refusing to tiptoe around the gnarlier elements of treatment and recovery, the narrative is powerful in its unvarnished honesty and contagious lust for life exemplified by hilarious anecdotes.
A uniquely fresh modern and black comedy take on cancer
Covers and pokes fun at everything from diagnosis to treatment to medical bills
Illustrated by San Francisco Chronicle cartoonist Don Asmussen, who has cancer for the second time
"I love this book."--Mary Roach, author of the books Grunt, Stiff, Spook, and Bonk
"This looks like a hoot and a half. I want more."--Daniel Handler (aka Lemony Snicket), author of A Series of Unfortunate Events
"Clear-eyed, fun, and reassuring, it's the perfect guide "--Vanessa Hua, author of A River of Stars and Deceit and Other Possibilities
Fans of F*ck Cancer, Cancer is Funny and Healing Through Humor will love this book
This book is perfect for
Anyone diagnosed with cancer or going through cancer treatment
Well-meaning friends and family of anyone diagnosed with cancer
Medical professionals who deal with cancer patients
Mary Ladd's writing has appeared in Playboy, Time Magazine/Extra Crispy, Health, the San Francisco Chronicle, and in five anthologies, including Lit Starts: Writing Humor from Abrams and the best-selling 642 Things series. You may have seen her onstage at the Community of Writers at Squaw Valley, Breast Cancer Action, Bay Area Young Survivors (BAYS) and reading her first place essay for a Litquake contest. She is a Writers Grotto member who collaborated with Anthony Bourdain on his Bay Area episodes of No Reservations.
Don Asmussen is the creator of Bad Reporter, a twice-weekly political comic strip in the San Francisco Chronicle that is syndicated by Universal Press Syndicate and the author of Dog vs. Cat: A Nation Divided and The San Francisco Comic Strip Book of Big-Ass Mocha.