Bad Gateway (Megg, Mogg and Owl) (Hardcover)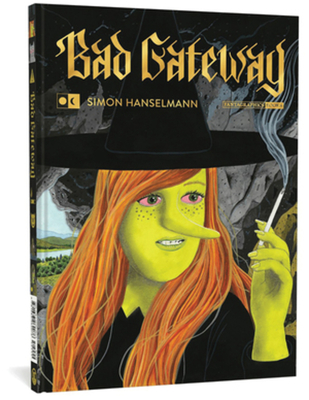 $29.99

Click the TITLE to view store availability
Description
---
Megg and Mogg, whose story is told in three previous, international, best-selling graphic novels, come to a breaking point in this volume.
Perpetually drunk and high, lovable degenerates Megg and Mogg have drifted through a life full of raucous antics and free of consequences. But their heavy drug use, once a gateway to adventure, has begun to take a grim psychological toll. As her unstable lifestyle finally catches up to her, Megg must turn to her past to uncover the roots of her self-destructive habits that have led her down this dark path.
About the Author
---
Simon Hanselmann hails from Tasmania but resides with his family in Los Angeles, CA.  His bestselling New York Times series Megg, Mogg and Owl has been translated into thirteen languages, nominated for multiple Ignatz and Eisner awards, and won Best Series at the Angouleme International Comics Festival in 2018.
Praise For…
---
If you like your comedy black, profane and outrageous, you've probably already encountered Hanselmann's twisted tales of Meg, Mogg, Owl and Werewolf Jones or should want to soon. Bad Gateway takes the emotional depth of Hanselmann's previous work up several notches. It also brings his finely-detailed and beautifully watercolored artwork to the fore.

— Forbes

Astoundingly well-crafted and punishingly heartfelt.
— Vulture

Hanselmann is one of the most gifted cartoonists alive.
— The A.V. Club

Readers struggling with their own demons will find Hanselmann's work chillingly real.
— Publishers Weekly

These are simultaneously some of the meanest and most tender comics you will ever read.
— Seattle Weekly

Hanselmann is a phenomenally talented, internationally renowned cartoonist who switches between laugh-out-loud absurdist humor and startlingly raw scenes of extreme sadness from one panel to the next, and this is his finest, funniest, and most mature work to date.
— Library Journal (starred review)

Bad Gateway is a soap opera. It's a sitcom. It's a black comedy about drug addiction. ... There's a voyeuristic quality to it—like watching a car crash. But it's also hard not to root for this out-of-control crew. I want them to win.

— Portland Mercury

Hanselmann's particular brand of surrealist, sharp-witted humor [is] augmented with a darkness that draws from his own deeply personal experiences, but which has clearly touched a helluva lot of people.
— Eye on Design

Bad Gateway feels like Hanselmann's going all out; giving us deeper character development, more depressing, yet relatable backstory and tragi-comic events than ever before. Hanselmann is hitting his stride and it's clear his over-arching narrative is now becoming satisfyingly cohesive. Not to be missed for fans of the series.

— Gosh Comics