Watch Officer's Guide 16th Edition (Blue & Gold Professional Library) (Hardcover)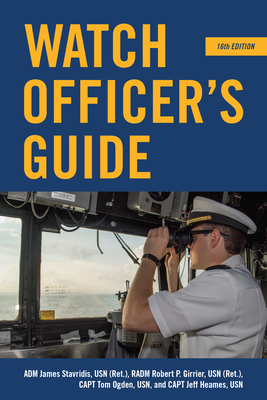 Not available to order
NOT on our shelves now. Usually ships from warehouse in several days.
Description
---
Watch Officer's Guide, 16th Edition, is a handbook for all deck and combat information center watch officers of the U.S. Navy and U.S. Coast Guard afloat, in the air, under the sea, and ashore. Originally written more than one hundred years ago and last revised in 2007, the book provides officers with guidance on the watch in general, communications, shiphandling, standard commands, safety, honors and ceremonies, engineering, and rules of the road--essential elements for success in standing any watch. It offers, in a single volume, a great deal of important information for aspiring officers seeking qualification, ensuring that they have the requisite knowledge and appreciation of the importance of what they are doing. For the more experienced watch officer, this 16th edition continues a long-standing tradition by providing a compendium of information handy for review and for the actual standing of a watch. The lessons and themes are shaped and geared toward the afloat watchstander, though they also provide a foundation for success in other areas of both military and personal life.
About the Author
---
Adm. James Stavridis, USN (Ret.) is a 1976 distinguished graduate of the U.S. Naval Academy who spent over 35 years on active service in the Navy. He commanded destroyers and a carrier strike group in combat and served for seven years as a four-star admiral, including nearly four years as the first Navy officer chosen as Supreme Allied Commander for Global Operations at NATO. After retiring from the Navy he was the 12th dean of The Fletcher School of Law and Diplomacy at Tufts University. He holds a PhD in international relations and was Chairman of the Board of the US Naval Institute. He is currently an Operating Executive with the Carlyle Group; and Chair, Board of Counselors for McLarty Associates. He has written articles on global security issues for The New York Times, The Washington Post, Atlantic Magazine, Naval War College Review, and Proceedings and is the author or co-author of several books, including The Leader's Bookshelf and Destroyer Captain. RADM Robert P. Girrier, USN (Ret.), is President of Pacific Forum, a private non-profit foreign policy research institute focused on building security and stability in the Indo-Pacific. He served as Deputy Commander Pacific Fleet and is founder and managing member of Strategic Navigation LLC, a consulting company. Co-author of four professional naval books, he commanded two carrier strike groups, a destroyer squadron, destroyer, and a mine countermeasures ship. He holds master's degrees in international affairs, marine affairs and public administration. CAPT Tom Ogden, USN, is the Deputy Commodore of Destroyer Squadron Seven, forward deployed to Singapore. A naval strategist, he has served at numerous joint and naval commands including command of a destroyer. He holds a master's degree in security studies. CAPT Jeff Heames, USN, is the Commodore of Destroyer Squadron Twenty Three. He has held numerous positions ashore and afloat including command of a destroyer. He holds master's degrees in global leadership and military studies.