The People Immortal (Paperback)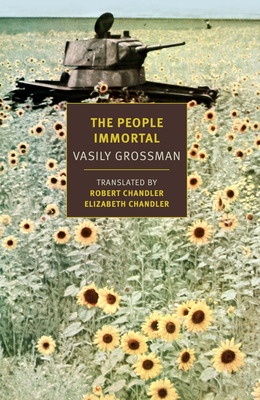 Description
---
The first war novel by the author of Life and Fate and a stunningly accurate portrayal of soldierly life written at the beginning of World War II.

Vasily Grossman wrote three novels about the Second World War, each offering a distinct take on what a war novel can be, and each extraordinary. A common set of characters links Stalingrad and Life and Fate, but Stalingrad is not only a moving and exciting story of desperate defense and the turning tide of war, but also a monumental memorial for the countless war dead. Life and Fate, by contrast, is a work of moral and political philosophy as well as a novel, and the deep question it explores is whether or not it is possible to behave ethically in the face of overwhelming violence. The People Immortal is something else entirely. Set during the catastrophic first months of the German invasion of the Soviet Union, this is the tale of an army battalion dispatched to slow the advancing enemy at any cost, with encirclement and annihilation its promised end. A rousing story of resistance, The People Immortal is the novel as weapon in hand.
About the Author
---
Vasily Semyonovich Grossman (1905–1964) was born in Berdichev, a Ukrainian town that was home to one of Europe's largest Jewish communities. During World War II, Grossman worked as a reporter for the army newspaper Red Star, covering nearly all of the most important battles from the defense of Moscow to the fall of Berlin. NYRB Classics publishes Grossman's Stalingrad, Life and Fate, The Road, Everything Flows, and An Armenian Sketchbook.
 
Robert Chandler's translations from Russian include works by Alexander Pushkin, Teffi, and Andrey Platonov. He has also written a short biography of Pushkin and has edited three anthologies of Russian literature for Penguin Classics. He runs a monthly translation workshop at Pushkin House in London.

Elizabeth Chandler is a co-translator, with her husband, of Pushkin's The Captain's Daughter and of several several works by Vasily Grossman and Andrey Platonov.

Julia Volohova is an independent scholar. She has been researching the life and work of Vasily Grossman since 2014 and she works as an editor for the Laboratory of Unnecessary Things at the Independent University of Moscow.
Praise For…
---
"In the hands of a lesser writer, Grossman's tales of heroism, of the solidarity between regular soldiers and political commissars, and his romanticized descriptions of Soviet life under Stalin, would be sentimental, except Grossman is self-aware to a fault. He understands that, like the infantrymen and tankers he describes, he's a soldier, too, only stories are his weapon." —Elliot Ackerman, The Atlantic

"In the summer and autumn of 1941 Grossman worked as a frontline correspondent for the military newspaper Red Star, narrowly eluding capture. What is so remarkable about the notes he took and the novel that gives them fuller expression is his capacity in the early hour of bitter retreat to grasp that this was 'a war like no other'." —Jochen Hellbeck, TLS
 
"The writing is tensile and evocative. A scene of besieged soldiers singing in the forest has stayed with me; I can still hear their voices." 
—Cary Holladay, Hudson Review

"A work not only of considerable literary significance, but also an important historical document. . . .As a new world war is brewing in Ukraine, and the vilest nationalism, xenophobia and historical lies are being promoted by the ruling classes everywhere, works like this will help reconnect the generations that have to wage the revolutionary battles of today with the socialist traditions of 1917." —Clara Weiss, World Socialist Web Site

"This is Grossman's genius. In a few lines he can evoke a whole life. . .The book is barely 200 pages but this new edition is full of fascinating footnotes and biographical and historical information. . . .it reminds us of the horrors of war and why Grossman was one of the greatest chroniclers of the Second World War in all its inhumanity." —David Herman, The Jewish Chronicle

"Superbly translated by Robert and Elizabeth Chandler. . . . Its greatest strength lies in its authenticity, with several characters modelled on real-life figures and much of the description drawn from personal testimony. Grossman combines a journalist's eye with a novelist's empathy, his portrayal of men under fire matching that of Erich Remarque and Stephen Crane." —Michael Arditti, The Spectator (UK)

"For the second world war, or Great Patriotic War as it is known in Russia, the most renowned writer is Vasily Grossman. . . . a superb translation by Robert and Elizabeth Chandler. . . admirers of Grossman will enjoy The People Immortal and benefit greatly from the introduction, afterword, appendices and notes provided by Robert Chandler and [Julia] Volohova." —Tony Barber, Financial Times

"The People Immortal is a remarkable novel that illuminates the terrible realities of Barbarossa and the banal horror of warfare with incomparable understanding and insight. As you would expect from Robert and Elizabeth Chandler, the translation is superb." —Jonathan Dimbleby

"Grossman's great and enduring asset as a novelist is that - paradoxically - he didn't have to rely on his imagination. He was there . . . It gives his writing unrivalled authority . . . [A] significant, valuable addition to Grossman's small but powerful body of work" —William Boyd, Sunday Times

"Grossman's future greatness is written in its pages . . . at the heart of his writing lies a tireless humanity and empathy" —Julian Evans, Telegraph

"[An] insightful novel. . . The text, which Grossman wrote shortly after his own visit to the front as a war correspondent, hums with fine details. . . a worthy look into Russian wartime psychology." —Publishers Weekly