Fire in the Canyon: A Novel (Hardcover)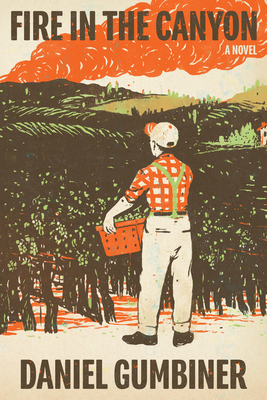 Description
---
A new novel from National Book Award nominee Daniel Gumbiner about a California grape-grower, his family, and the climate disaster that upends their quiet lives.

Since his release from prison after serving an eighteen-month sentence for growing cannabis, Ben Hecht's life has settled into a familiar routine. On his farm in the foothills of California, he stays busy cultivating a dozen acres of grapes and tending to a flock of mistrustful sheep. Meanwhile, from her desk in their old redwood barn, his novelist wife, Ada, continues to work on what may be her most important book yet. When their only son, Yoel, comes home from Los Angeles for a rare visit, Ben is forced to confront their long troubled relationship, which has continued to degrade in recent years. But before the two of them can truly address their past, a wildfire sweeps through the region, forcing the Hecht family to flee to the coast, and setting into motion a chain of events that will transform them all. 

This is a story about grape growing and wine, financial and familial struggles, and the peculiar characters and unlikely heroes one will always find in small-town California. Through the experiences of the Hechts and the escalating challenges that face their community, Fire in the Canyon is an intimate look at the lives of those already living through the climate crisis.
About the Author
---
Daniel Gumbiner's first book, The Boatbuilder, was longlisted for the National Book Award and a finalist for the California Book Awards. A 2022–23 Hermitage Fellow, he lives in Oakland, CA, and works as managing editor of The Believer.
Praise For…
---
"The prose shines in its depictions of nature and setting, as when Gumbiner compares burnt trees to 'spires of obsidian.' Near the end of the novel . . . the reader must also locate the sacred in the natural and mourn all that humanity is losing as we hurtle toward a decimated planet."
—Edan Lepucki, Alta Journal

"Set in the foothills of California's gold country, this dread-laden novel follows a family who make their living cultivating grapes for winemaking as they attempt to resume their lives in the wake of a wildfire. . . The father's detailed awareness of the region's weather produces a sense of looming crisis."
—The New Yorker

""Fire in the Canyon" certainly has mythic overtones. It is a kind of Steinbeck saga with more modern catastrophes in mind; instead of the depredations of the Dust Bowl and the Depression, the Hechts face the twin crises of economic precarity and climate change."
—Lorraine Berry, Los Angeles Times

"Gumbiner writes with tremendous heart for his characters, as well as meticulous detail about their everyday lives tending their crops, making wine and finding community in a disorienting moment of environmental precarity."
—Jessica Zack, San Francisco Chronicle

"There is action and drama, but it's not a collage of IPCC report scenarios, it's a real and human story about what happens when a family's own unspectacular life becomes part of the global drama of global warming."
—Alexis Madrigal, KQED Forum

"Gumbiner crafts an important story, the fictional equivalent of outdoor warning sirens screaming above smoldering pine trees. An engaging, Steinbeckian look at climate change and its emotional costs."
—Kirkus Reviews

"A soulful masterpiece about the climate crisis in California."
—Gabe Hudson, Kurt Vonnegut Radio

"Suspenseful . . . Gumbiner skillfully builds tension as the Hecht family's hard work in the vineyards plays out, pulling them together, even as they ignore the red-flag fire warnings and face the uncertainty of whether the wine produced will be potentially ruined by smoke taint. Readers will be riveted."
—Publishers Weekly

"Daniel Gumbiner is fast becoming a sort of 21st century Steinbeck, authoritatively illuminating life in California, with all its glories and calamity. Filled with vivid characters and deep knowledge of the land, this is a commanding second novel." 
—Dave Eggers, author of The Circle

"There's some golden hue or quality that tinges these pages. I have felt for a long time like we need more California novels, and since reading his first novel, more writers like Daniel Gumbiner."
—Tommy Orange, author of There There

"Stunning. Daniel Gumbiner is one of our greatest living writers on and of the American West, and this book is a thing of beauty." 
—Claire Vaye Watkins, author of I Love You but I've Chosen Darkness