Essential Technical Football Skills ( Black and White Version): Must Have Skills For Kids & Youth Soccer - For Players Parents & Coaches to Coach in M (Paperback)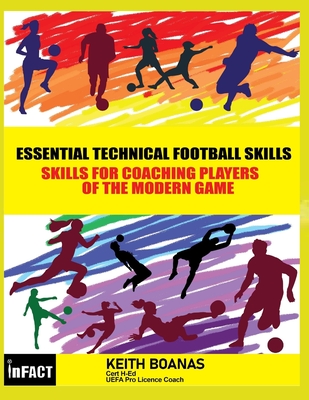 $6.76
Temporarily Unavailable
Description
---
In our efforts to make coaching more affordable the interior of this version of the book is in black and white - InFACT publishing

A Technical Coaching Manual for Coaches and Coach Tutors.
This book is for those looking to master technique OR deliver modern technical sessions to their players or students of the game
Football (Soccer) has evolved over the years and so has the ability to execute new player skill sets as well as the actual teaching of delivery skills - The modern coach is no longer a coach; the modern coach has to be an educator understanding the technical skills required intodays game.
This book is aimed at coaches and tutors as well as players - no matter what level of coaching or playing you are at; you will find this coaching manual extremely valuable in teaching technique and will even enhance your current knowledge further if you are a qualified coach. It covers in clear illustrated steps from basics as well progressing to advanced techniques required, dependent on players age, ability and level of play.

This is book was written initially as a coach's tutorial manual and designed by Keith Boanas (one of the most influential coaches and coach educators in England - See Author Link) originally as part of his role in coach education as a Technical Director for Coach Education. "It was apparent there was a specific breakdown of the more infinite points in regard to actual technical breakdown of the skills required and often taught on coach qualification courses."
Of course, a demonstration is the best form of teaching or use of video footage of them being executed by the players themselves. But a technical skills coach needs that better outline and specific breakdown along with the understanding on how to coach and deliver technical skill. This is not for the coach to repeat every line to their players as this would mean far too much talking and way too much detail for the players. But more for the coach to drip feed the smaller finer elements as and when the player may need.

Along with the easy to understand illustrations and technical coaching points you will also find as a bonus useful coaching session planner at the rear of the book.
Grab your copy today to stay one step ahead and to stand out as a respected modern-day technical skills coach