Introduction to Teaching with Zoom: A Practical Guide for Implementing Digital Education Strategies, Creating Engaging Classroom Activities, and Building an Effective Online Learning Environment (Books for Teachers) (Paperback)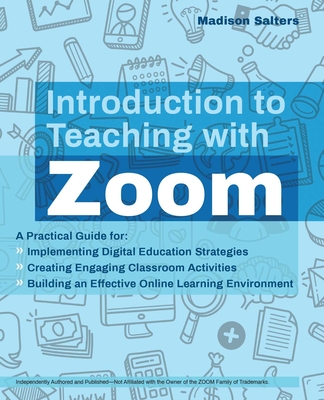 $13.95
Temporarily Unavailable
Description
---
Learn how to take your classroom curriculum digital using Zoom's unique video conferencing features to connect with students with amazing results.

Introduction to Teaching with Zoom will help teachers of all grade levels master the basics of communication and education using the Zoom video conferencing service. With step-by-step instructions paired with helpful screenshots, teachers will learn how to connect with students, record your Zoom meetings, control access to lessons, contribute to live chat streams, and conduct webinars. Zoom newbie? No worries! Experienced educator and author Madison Salters takes readers through the most common Zoom features and terminology.

Now more than ever, schools have become increasingly reliant on digital means for education. Whether public grade schools have been temporarily closed, or colleges and universities are looking to invest in distance learning, teachers need to be armed and ready to do what they do best no matter the platform.

Packed with tips, tricks, troubleshooting, and lesson plans to keep students of all ages engaged, this book is indispensable as the future of teaching continues to evolve.

About the Author
---
Madison Salters is a writer, editor, and full-time teacher with Jolt's global campuses for continuing education. She is Zoom certified and has used the platform as a UN Refugee Teacher abroad. She lives in New York City.