Dragonblood Ring (Hardcover)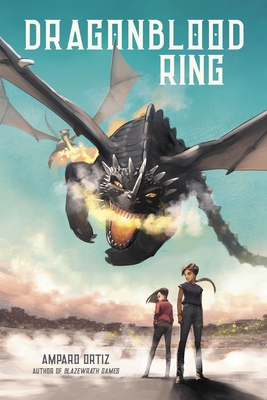 $18.99

Click the TITLE to view store availability
Description
---
A deadly new sport is making dragons disappear.


Playing in the Blazewrath World Cup with Team Puerto Rico and the Sol de Noche
dragons had been Lana Torres's dream come true—until it turned into a nightmare. To rid
the world of the dragon supremacists, Lana and her friends had to cancel the games forever.

Without the sport that brought them together, the whole team returns to Puerto Rico to
recover. But rest isn't in the cards. Someone is kidnapping dragons and has set their sights on
the Sol de Noches.

To keep their dragons safe, Team Puerto Rico has to take down an underground cabal of evil
magic users who are fighting stolen dragons to the death. But even if they join forces with
Blazewrath-superstar-turned-international-fugitive Takeshi Endo, will they be able to
stop the most powerful witch the world has ever seen?
About the Author
---
Amparo Ortiz was born in San Juan, Puerto Rico, and currently lives on the island's northeastern coast. BLAZEWRATH GAMES is her debut novel (Page Street Kids, 2020). Her short story comic, "What Remains in The Dark," appears in the Eisner Award-winning anthology PUERTO RICO STRONG (Lion Forge, 2018), and SAVING CHUPIE, her middle grade graphic novel, comes out with HarperCollins in 2022. She holds an M.A. in English and a B.A. in Psychology from the UPR's Río Piedras campus. When she's not teaching ESL to her college students, she's streaming Kpop music videos, vlogging for her eponymous YouTube channel, and writing about Latinx characters in worlds both contemporary and fantastical.
Praise For…
---
"Dragon battles and action sequences, paired with magic elements that expand upon the previous entry, make this a page-turner. Thrilling from start to finish." —Kirkus Reviews

"Come for the dragons, stay for the thrilling adventure, heart, amazing representation, and punchy writing that will keep you glued to the page. I didn't want it to end!" —Kalynn Bayron, bestselling author of Cinderella Is Dead

"Dragonblood Ring is a searing sequel—filled with magic, monsters, and perfectly paced chapters that will keep you up late, racing around the world with its cast of perfectly snarky characters." —Sarah Henning, author of The Princess Will Save You and Sea Witch

"With rich world-building, a diverse cast of believable characters, and an infectiously enjoyable style, Ortiz has created a book that's impossible to put down and easy to love." —Anya Josephs, author of Queen of All

"Ortiz takes readers back into the Blazewrath world with a heart-touching exploration of identity and belonging, wrapped up in magic, dragons, and high stakes. A soaring one-of-a-kind ride!" —Rebecca Coffindaffer, author of Crownchasers

"Dragonblood Ring is a brilliant adventure of a book that is both emotionally compelling and intensely readable. It kept me up long into the night, as I rooted for the characters and raced through the twists of the story. Highly recommended!" —Jamie Pacton, author of The Life and Medieval Times of Kit Sweetly and Lucky Girl