Judy Moody y Stink: El hueso de los deseos / Judy Moody & Stink: The Wishbone Wi sh (Paperback)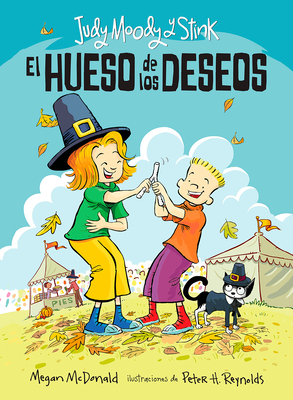 $14.95

NOT on our shelves now. Usually ships from warehouse in several days.
Other Books in Series
This is book number 4 in the Judy Moody & Stink series.
Description
---
¡En sus marcas, listos, Glú, Glú, Glú, Glú! Judy jura que ganará la carrera para ganar un pavo de Acción de Gracias (aunque Stink tiene sus dudas) en esta aventura de Judy Moody y Stink a todo color.

Se acerca el Turkey Trot, la carrera y el festival anual de la ciudad, y Judy y Stink se están entrenando para ganarla. Judy ha decidido que se llevará a casa el gran premio: un pavo gordo y jugoso. Hasta lo pueden saborear: el pavo jugoso, el gravy caliente, el delicioso relleno, ¡la salsa de arándanos! ¡Quérico! ¡Bip! ¡Bip! ¡Bip! Ese es el sonido del cronómetro Rapid Fire Ultra XE611M25 de Stink mientras él y Judy brincan, gatean y trepan para llegar al día de la carrera. Pero, ¿y si no ganan el pájaro delicioso? ¿Entonces que? ¡Mollejas de pavo voladoras! ¿Terminará la familia Moody hambrienta en la cena del día de Acción de Gracias, como los peregrinos de antaño, o la abuela Lou preparará una deliciosa solución de Franksgiving con hot dogs?

ENGLISH DESCRIPTION

On your mark, get set, Gobblers-a-Go-Go! Judy swears she'll win the race for a Thanksgiving turkey (though Stink has his doubts) in this full-color Moody adventure.

The town's annual Turkey Trot race and festival is coming up, and Judy and Stink are training to win. Judy has decided that she is going to take home the big prize: a fat, juicy turkey. They can taste it already: the moist turkey, the hot gravy, the savory stuffing, the cranberry sauce! Beep! Beep! Beep! That's the sound of Stink's Rapidfire Ultra XE611M25 stopwatch going off as Judy and Stink hop, crawl, and climb toward race day. But what if they don't win a mouthwatering bird? What then? Flying turkey gizzards! Will the Moody family end up starving on T-day, like ye pilgrims of olde, or will Grandma Lou cook up a tasty Franksgiving solution?
About the Author
---
Megan McDonald es autora de la popular serie de Judy Moody y Stink. Ha escrito muchos otros libros para niños, entre ellos la serie de cuentos de Hormiga y Abeja, la serie Club de Hermanas y varios álbumes ilustrados. Antes de dedicarse a tiempo completo a la escritura, Megan McDonald trabajó como bibliotecaria, librera y actriz de recreaciones históricas. Vive en el Norte de California con su esposo, Richard Haynes, que también es escritor.