Steel & Thunder (Paperback)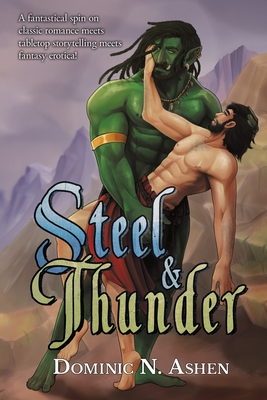 $20.39

NOT on our shelves now. Usually ships from warehouse in several days.
Description
---
When David went exploring with his friends, he figured they might come across some old ruins or maybe fight a few monsters.... He never expected that he'd wind up captured by an orc and turned into his pet; what he expected even less was that he'd actually like it. It all started when he was sitting in a jail cell, so desperate to escape that he agreed to trial by combat: The Ritual of Steel & Thunder. He opens the fight strong, but when his competitor manages to overpower him, things start to heat up and he realizes he may have signed on for more than he bargained for. Captain Khazak Ironstorm is the orc ranger responsible for David's arrest-and after defeating him in combat, his new owner amused by his slave's antics, until something deeper begins to grow between them. What does this mean? A tale of romance mixed with some humor, adventure, and a heaping helping of kink. Read the journey of David and Khazak as they learn to understand each other and uncover the mysteries of the magical world around them. Readers who love kink, BDSM, Dom/sub, and other elements of male-on-male romance will love this story.
About the Author
---
Dominic N. Ashen is an author and avid reader, with a heavy focus on gay, kink-themed erotica. After spending his youth in search of books with characters who were more like himself - queer ones, specifically - he decided to start creating some of his own. His stories star queer protagonists, most often gay and bisexual men, and feature heavy themes of dominance, submission, and all sorts of kink. Dominic loves the fantasy, sci-fi, and horror genres, with a penchant for writing longer stories where he is able to weave in the sex and kink right alongside the plot.