To the Lake: A Balkan Journey of War and Peace (Paperback)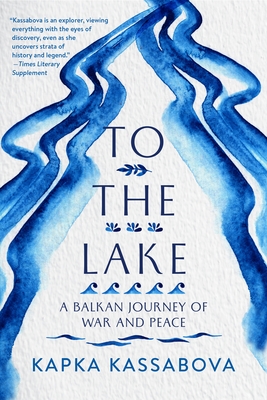 $18.00
ON HAND in at least ONE of our stores. Click through or call for up-to-the-minute availability.
Description
---
The celebrated author of Border explores a mysterious, ancient, and little-understood corner of Europe

Lake Ohrid and Lake Prespa. Two ancient lakes joined by underground rivers. Two lakes that seem to hold both the turbulent memories of the region's past and the secret of its enduring allure. Two lakes that have played a central role in Kapka Kassabova's maternal family.

As she journeys to her grandmother's place of origin, Kassabova encounters a historic crossroads. The lakes are set within the mountainous borderlands of North Macedonia, Albania, and Greece, and crowned by the old Via Egnatia, which once connected Rome to Constantinople. A former trading and spiritual nexus of the southern Balkans, this lake region remains one of Eurasia's most diverse corners. Meanwhile, with their remote rock churches, changeable currents, and large population of migratory birds, the lakes live in their own time.

By exploring on water and land the stories of poets, fishermen, and caretakers, misfits, rulers, and inheritors of war and exile, Kassabova uncovers the human destinies shaped by the lakes. Setting out to resolve her own ancestral legacy, Kassabova locates a deeper inquiry into how geography and politics imprint themselves upon families and nations, one that confronts her with universal questions about human suffering and the capacity for change.
About the Author
---
Kapka Kassabova grew up in Sofia, Bulgaria, and now lives in the Scottish Highlands. Her most recent book is Border: A Journey to the Edge of Europe, which was a finalist for the National Book Critics Circle Award.
Praise For…
---
"'Spirit' is an apt word for Kassabova. The author is a consummate adventurer and indiscriminate observer. . . . Talking to strangers is her me´tier; in kiosks, at curbsides, and in cafés, she harvests myriad little sagas, which cast their own light (or shadow) over a land it seems no one can quite definitively call their own. . . . Kassabova's book shines . . . in the casual precision of the author's own observations. Her style is wily and imaginative, with sentences rapidly gliding into the unexpected."—Bookforum

"Kassabova's journey is . . . expansive. This, coupled with the raw candor of its many conversations, gives the book an undeniable pulse. Through its sincerity and profundity, To the Lake proves Kapka Kassabova's to be one of Eurasia's definitive literary voices."—World Literature Today

"Borders and their intrinsic, deforming violence remain Kassabova's subject. But in this book she goes further, tracing the intrusion of those cracks deeper into the souls and psyche of successive generations, herself included. . . . The book's achievement . . . is to reconcile, thrillingly, what those twin bodies of water represent to Kassabova: the unconscious and the conscious; the darkness of history and the radiance of life and love."—The Guardian (UK)

"To the Lake is an exquisitely written rallying cry to embrace the notion that the people of the Balkans—and indeed humanity as a whole—have more in common than what divides them, despite generations of strife suggesting otherwise."– Financial Times (UK)

"By showing us the intricate ways in which human paths cross, Kassabova instills the image of kindness we need to show one another if we are to make it through the unexpected twists of fate. And just as the locals are never able to leave the lake, so the reader is bound to discover that they too will never be able to leave the book's potent message behind."—Asymptote

"In lyrical, radiant prose, [Kapka Kassabova] recounts her journey to the lakes in a quest to understand the historical forces that shaped her family and her sense of self. . . . A haunting, captivating memoir of homecoming."—Kirkus Reviews, starred review

"This heartfelt exploration of the intersections between geography, history, and identity mesmerizes."—Publishers Weekly

"From the deep labyrinths of the Balkan past, Kapka Kassabova has returned with another hoard of extraordinary lives, tales of survival, dark comedy, and horror. Humanity glitters under her gaze in all its facets. Her prose is spectacularly good and her storytelling is a joy."—Philip Marsden