Count Belisarius (Paperback)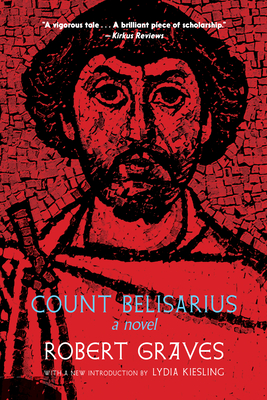 $19.95
Temporarily Unavailable
Description
---
A dazzling historical novel set in the sixth century AD, from I, Claudius author Robert Graves, and with a new introduction by novelist Lydia Kiesling.

The sixth-century Roman Empire is a dangerous place, threatened on all frontiers by invaders. But soon the attacking armies of Vandals, Goths, and Persians grow to fear and respect the name of one man, Belisarius: horseman, archer, swordsman, and military commander of genius. As Belisarius triumphs in battles from the East to North Africa, his success causes him to become regarded with increasing jealousy and suspicion. In his palace in Constantinople the Emperor Justinian, dominated by his wife Theodora, plots the great general's downfall. Written in the form of a biography by Belisarius's manservant, this epic historical novel portrays him as a lone man of honor in a corrupt world.

Seven Stories' Robert Graves Project spans fourteen titles, and includes fiction and nonfiction, adult, young adult, and children's books, in a striking new uniform design, with new introductions and afterwords. Count Belisarius joins our recent re-publication of The Reader Over Your Shoulder, Lawrence and the Arabs, The Golden Fleece, and Homer's Daughter. Among the works still to come are Hebrew Myths, Wife to Mr. Milton, and The Isles of Unwisdom. The online partner for the Robert Graves Project is RosettaBooks.
About the Author
---
ROBERT GRAVES (1895-1985) was a preeminent English poet, novelist, critic, translator, and scholar of classical mythology. He served in World War I--an experience recounted in his 1929 autobiography, Good-Bye to All That--and later became the first professor of English literature at the University of Cairo. Best remembered today for I, Claudius, The Golden Fleece, Reader Over Your Shoulder, The White Goddess, among many others. LYDIA KIESLING is an author and literary critic. From 2016 to 2019 she was editor of The Millions, and in 2018 her first novel, The Golden State, was published by Farrar, Straus, and Giroux. Praised as a "journey in the visceral and material realities of motherhood" by Sarah Blackwell in The New Yorker, The Golden State was longlisted for the 2018 Center for Fiction First Novel Prize, and the National Book Foundation named Kiesling one of their "5 Under 35" the same year.