Rick Steves Snapshot Nice & the French Riviera (Paperback)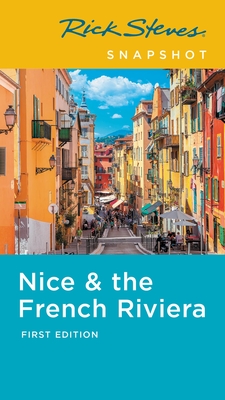 $13.19
Temporarily Unavailable
Description
---
You can count on Rick Steves to tell you what you really need to know when traveling in Nice and the French Riviera.
In this compact guide, Rick Steves covers the best of Nice and the French Riviera, including tips on arrival, orientation, and transportation. Relax on seafront promenades and pebble beaches, stroll the yacht-filled harbors, and drive scenic coastal roads. Explore medieval town centers and admire the works of Chagall and Matisse. You'll get firsthand advice on the best sights and experiences, and the maps and self-guided tours will ensure you make the most of your trip. More than just reviews and directions, a Rick Steves Snapshot guide is a tour guide in your pocket.
Rick Steves Snapshot guides consist of excerpted chapters from Rick Steves European country guidebooks. Snapshot guides are a great choice for travelers visiting a specific city or region, rather than multiple European destinations. These slim guides offer all of Rick's up-to-date advice on what sights are worth your time and money. They include good-value hotel and restaurant recommendations, with no introductory information (such as overall trip planning, when to go, and travel practicalities).
About the Author
---
Since 1973, Rick Steves has spent about four months a year exploring Europe. His mission: to empower Americans to have European trips that are fun, affordable, and culturally broadening. Rick produces a best-selling guidebook series, a public television series, and a public radio show, and organizes small-group tours that take over 30,000 travelers to Europe annually. He does all of this with the help of more than 100 well-traveled staff members at Rick Steves' Europe in Edmonds, WA (near Seattle). When not on the road, Rick is active in his church and with advocacy groups focused on economic and social justice, drug policy reform, and ending hunger. To recharge, Rick plays piano, relaxes at his family cabin in the Cascade Mountains, and spends time with his son Andy and daughter Jackie. Find out more about Rick at www.ricksteves.com and on Facebook.
Connect with Rick:facebook.com/RickStevestwitter: @RickStevesinstagram: ricksteveseurope
Steve Smith manages tour guides for Rick Steves' Europe tour program and has been researching guidebooks with Rick for over two decades. Fluent in French, he's lived in France on several occasions, starting when he was seven. Steve owns a restored farmhouse in rural Burgundy where he hangs his beret in research season. Steve's wife, Karen Lewis Smith, an expert on French cuisine and wine, provides invaluable contributions to his books.