The Show Won't Go On: The Most Shocking, Bizarre, and Historic Deaths of Performers Onstage (Paperback)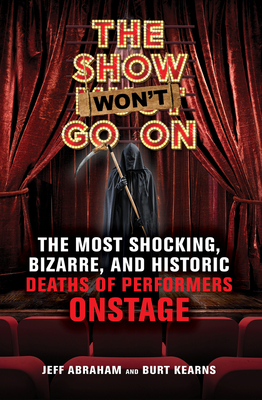 $16.99
ON HAND in at least ONE of our stores. Click through or call for up-to-the-minute availability.
Description
---
There has never been a show business book quite like The Show Won't Go On, the first comprehensive study of a bizarre phenomenon: performers who died onstage. The Show Won't Go On covers almost every genre of entertainment, and is full of unearthed anecdotes, exclusive interviews, colorful characters, and ironic twists. With dozens of heart-stopping stories, it's the perfect book to dip into on any page.
About the Author
---
Jeff Abraham is a public relations executive who's regarded as one of Hollywood's top comedy historians and go-to pop culture experts. Burt Kearns is an award-winning television and film producer, director, writer, journalist—and author of the controversial memoir Tabloid Baby.
Praise For…
---
"As someone who's died on stage more times than you'd like to remember, I really enjoyed this book." —Gilbert Gottfried
"The Show Won't GoOn is A GIFT FROM HEAVEN. For my entire life, I've been obsessed with how certain comedians died on stage doing what they loved the most. Jeff Abraham and Burt Kearns have not only written a fascinating, fun, and essential showbiz history book, they've also answered questions that have haunted me for years, and out to rest long-circulated urban myths." —Drew Friedman, illustrator
"From comedian Dick Shawn to country star Onie Wheeler, this morbid survey of performers who literally died onstage is A REMARKABLE READ. Abraham and Kearns have managed the impossible—an obsessive book about death that is truly a celebration of life." —Kliph Nesteroff, author of The Comedians
"Sadly, I must say this is A GREAT READ, but I've done at least fifty thousand shows, many in front of sociopaths, so if you want to trust a dead man, be my guest." —Richard Lewis
"This is a COOL, CRAZY, AND VERY ENTERTAINING deep dive into a taboo topic from a pair of pop culture scholars with an appreciation for the overlooked, offbeat, and often dark lore of show business. If I dropped dead reading The Show Won't Go On, I'd have died doing what I loved." —Legs McNeil, coauthor of Please Kill Me
"A wonderful read for those looking for a unique twist on true crime." --Booklist
"Absorbing...Both Abraham and Kearns are show business and pop culture savants." — Vanity Fair Online
"There's never been any book like it, which makes it all the more compelling." — Houston Press
"By the final chapter...this reader felt like he was enduring a printed version of the brilliant television show Six Feet Under." — The Telegraph
"By the final chapter...this reader felt like he was enduring a printed version of the brilliant television show Six Feet Under."—The Telegraph